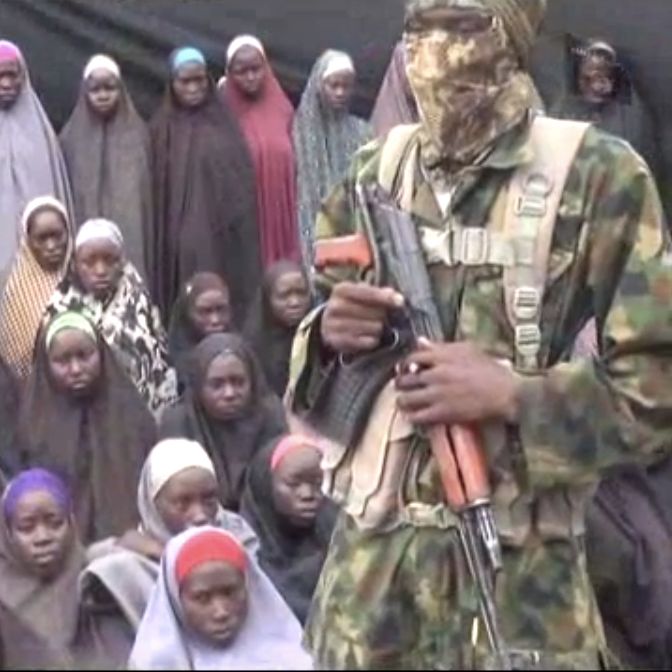 Boko Haram has released a new video featuring around 50 kidnapped girls who are thought to be part of the group first kidnapped in April 2014.
The video, which is over 11 minutes long, is addressed "to the family of Chibok girls." An anonymous Boko Haram militant, who has his face covered and is holding a gun, demands the release of imprisoned fighters in exchange for the young women in the video, whose faces are shown as the camera pans around.
According to The Guardian, a young woman who identifies herself as Maida Yakubu states:
To our parents — please be patient. There is no kind of suffering we haven't seen. Our sisters are injured; some of them have wounds on their heads and bodies. Tell the government to give them [Boko Haram] their people, so we can come home to you.

We are all children. We don't know what to do. The suffering is too much. Please try. We have been patient. The only thing that can be done is to give them their people so we can go home.
CNN interviewed the woman's father, Yakubu Kabu, who was ecstatic to learn his daughter is still alive. He also said he recognized some of the other girls in the video. "I'm very, very happy I saw my daughter on the video and I'm very happy she's alive. Some people [have] said the kidnapping is not true. Some people have said they are no more alive. Now I see her and I know she's okay."
The anonymous Boko Haram member says on the video that they've married off 40 of the Chibok girls, and that some were killed during government airstrikes. (The video purportedly shows the bodies, but analysts disagree on the cause of their deaths.)
According to CNN, the video speaks to the internal crisis among Boko Haram leadership since ISIS has instituted a new leader. CNN's sources assert the video was released by the group's original leader, Abubakar Shekau, to show he's still in control. Whatever the case, it's unclear how negotiations will proceed, if at all.