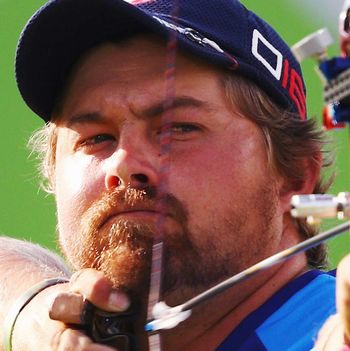 Which is which?
Photo: Getty Images
Citi Bike enthusiast Leonardo DiCaprio has a few doppelgängers that we know of already. There's young model Dane Dehaan (ghost of Leo past). There's Russian guy Roman Burtsev (ghost of Leo future). And now, in the excitement and fervor of the Olympics, yet another lookalike has emerged from the shadows: Brady Ellison, American Olympic archer (and ghost of Leo present).
Ellison, a 27-year-old from Arizona, is one of the world's top-ranked archers — he's nicknamed "The Prospector" because he's good at "finding gold." At this year's Olympics, USA already took home a silver in the team event; Ellison is also competing in the men's individual archery event on Tuesday, August 9.
Though the archer may share Leo's bone structure and facial-hair habits, their similarities seem to end there: Ellison is happily married to Slovenian archer Toja Čern; the number of models DiCaprio has dated is higher than the number of people I know, period.
Ellison's stance on vaping is still unknown.