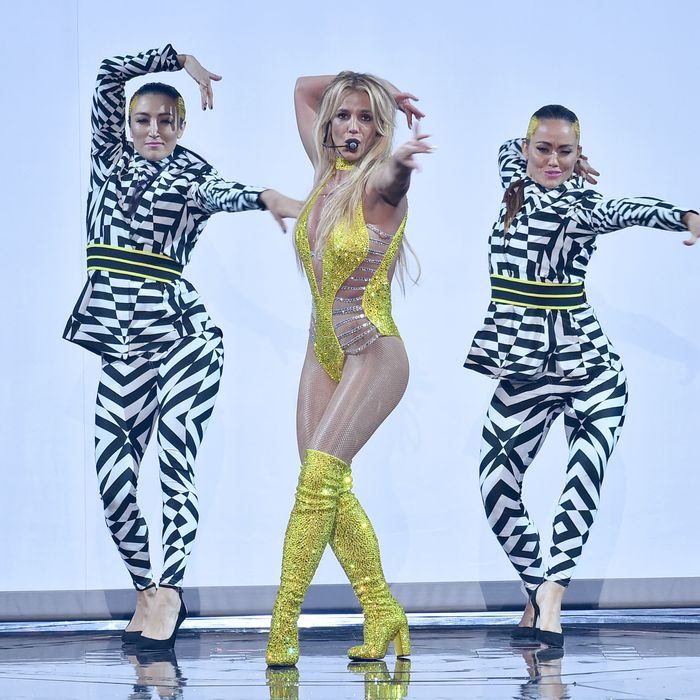 Britney Spears at the VMAs
Photo: Theo Wargo/Getty Images for MTV
On her worst day — let's say, bedridden with a nasty case of pinkeye — Beyoncé is a tough act to follow. Tonight at the VMAs, during which she literally set the stage on fire performing a searing, awe-inspiring 15-minute Lemonade medley, the only appropriate response would have been for everyone in the building to pack up their stuff and go home.
Unfortunately, those sick bastards at MTV had a different idea, choosing to follow Queen Bey's performance not with some lesser act, but with none other than Britney Spears herself. Once a fixture of the ceremony, Brit was scheduled to make her historic comeback after a fraught nine-year hiatus from the VMA stage, and, well, they couldn't have given her a tougher time slot to do it in.
To Brit's credit, she did fine! Absolutely fine. Sure, G-Eazy looks like the kind of guy you wouldn't want to be cornered by at a party, and the shadow-hands will haunt our nightmares for weeks to come, but it was no 2007, and she looked like she was having fun. Which is really the most important thing, right?