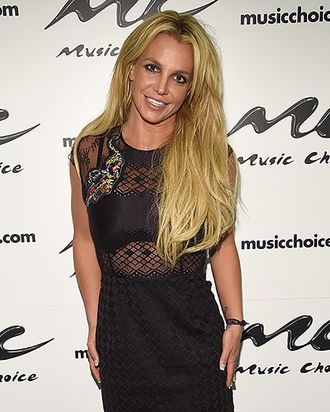 Britney Spears
Photo: Kevin Mazur/Getty Images
Another VMAs has come and gone for Britney Spears, who, with this year's performance, continued her streak of appearances at the annual MTV awards show. And while the producers might have given her a near-impossible act to follow in the form of Queen Bey, Spears has gifted us with many an iconic show over the years.
Whether she danced as a baby-faced pop singer, or seduced the audience while carrying a snake, or even locked lips with Madonna, it's hard to forget a Britney show. (Yes — even the bad ones.)
Yet, Spears doesn't think all her performances are memorable. In an interview with Elvis Duran and the Z Morning Zoo on Monday, Spears admitted she has absolutely "no recollection" of her very first VMAs performance 17 years ago.
"I think I was with NSYNC when I performed for the first time," she said about the 1999 VMAs, according to Us Weekly. "I think the whole setup was a classroom, and my four main dancers were in the front at their desk and I came out of my locker. But, you know what, I don't remember at all. I have no recollection. I couldn't tell you anything about it."
Granted, Spears has been on the pop scene for almost two decades now, and at some point, it's understandable that shows might blur together. But you'd think she might remember more clearly those early performances when she was still years away from reaching her iconic "Britney, bitch," status.
This isn't the first time that she's had some trouble recalling events — or meeting people (like — ahem, Taylor Swift). But maybe this is simply her way of reminding us how far she's come?
Whatever the case, Britney is still Britney, bitch.