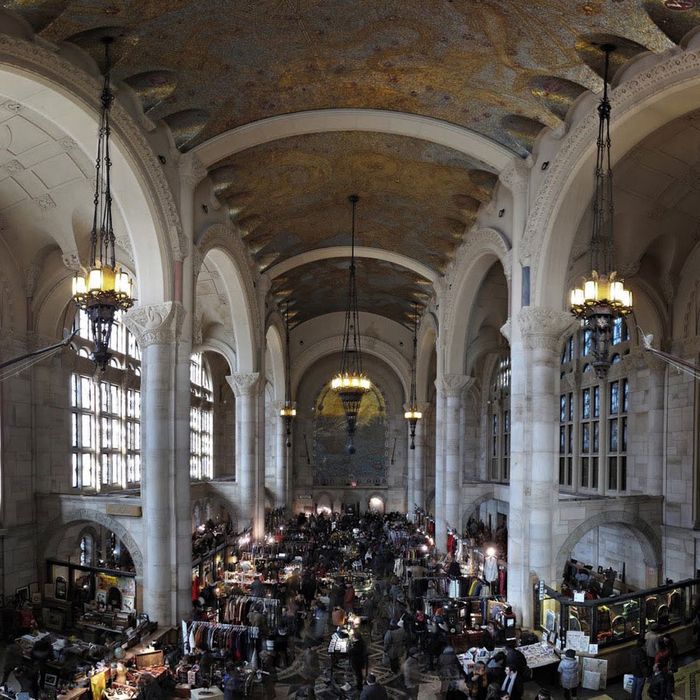 Back to the clock tower at Skylight One Hanson.
Photo: Courtesy of Brooklyn Flea
This winter, Brooklyn Flea and Smorgasburg will move back to one of Brooklyn's most iconic landmark buildings — Skylight One Hanson, Fort Greene's former Williamsburgh Savings Bank Tower — with pop-up space for young designers and (possibly) two bars serving beer and wine.
On the main floor and mezzanine, about 75 vendors will sell designer clothing, antiques, and vintage goods under the building's vaulted ceilings, tiled mosaic murals, and stained-glass windows. Downstairs, you'll find Smorgasburg's food vendors near the old bank vault's colossal doors. (Fun architectural fact for Instagram snaps in this opulent, Beaux-Arts space: The white walls are made of 22 different kinds of Italian marble.)
This year the team hopes to attract emerging designers with new brands and clothing lines (the vendor application is here), as well as serve beer and wine in two separate bars. Pending a liquor-license application, visitors can drink inside the bank vault near the Smorgasburg booths or upstairs by the market's entrance. Some things to look forward to, depending on final plans: new wine selections every month or weekend, brewery tap takeovers, and bar-related accessories and furniture sales throughout the winter.
The market will be open every Saturday and Sunday from November 5 through March 26.