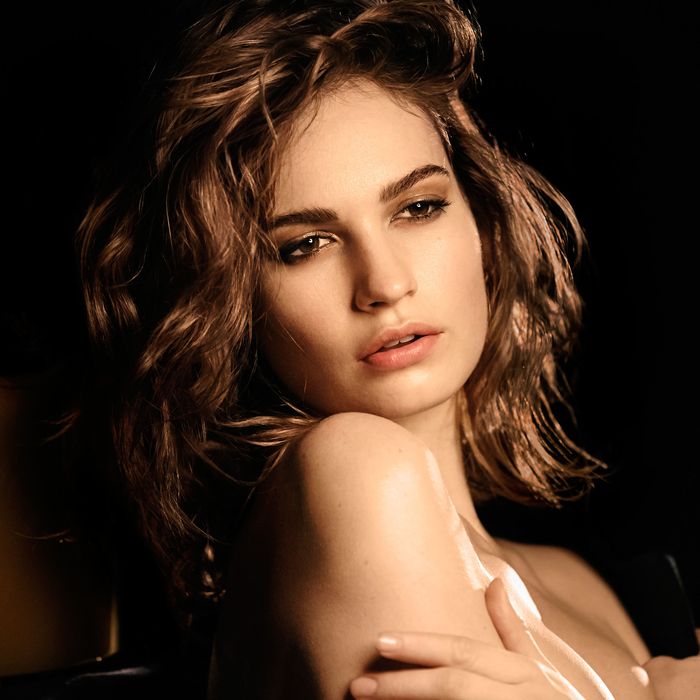 Photo: Courtesy of Burberry
After fighting off zombies with Mr. Darcy, British actress Lily James checked the achievement of starring in a major sensual perfume ad off her list, as the face of Burberry's newest perfume campaign for Burberry Black. Talking with the Cut on the set in April, the actress couldn't reveal much of anything about her first-time fragrance shoot. "I can't talk about the concept. It's very sensual," is all she said.
Now that the ad has debuted, it's evident why she had to tackle the new role with courage, kindness, and a lot of secrecy (and trust in well-placed shadows). Continuing its recent trend of sexy ad films, Burberry released this new ad, which is heavy on the moody, shadowy nudity. Shot by Mario Testino, who James called an "electrifying and a force of nature," James lounges in repose against a gigantic Burberry perfume bottle (probably great for back support). The new perfume, which James said was all about "darkness, sensuality, and intensity," was also how she got into character for playing a star-crossed lover in Kenneth Branagh's production of Romeo and Juliet. Watch the short version of the film in which James gets caught in a rainstorm. In honor of the new ad, the social-media-savvy brand is also releasing a fragrance-inspired Snapchat filter. You can add it to your stories starting tomorrow.