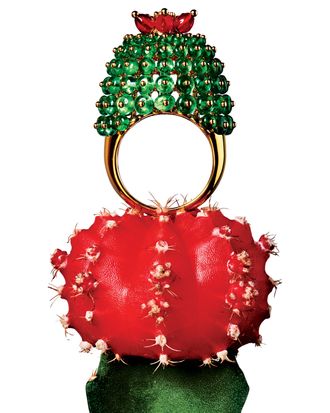 This ring has more than 100 emeralds and five carnelians.
Photo: Bobby Doherty/New York Magazine
Cartier has a long-standing history with flora-motif jewelry: Russian hard-stone flowers in agate and jade in the early-20th century, diamond-and-onyx orchids in 1925, coral-rose chokers in the '60s. Now comes a new 13-piece collection called Cactus de Cartier, a riff on the arid desert cactus (and appropriate for these succulent-crazed times). Coinciding with the September reopening of the Cartier Mansion (653 Fifth Ave., at 52nd St.; 212-446-3400), which just underwent a two-and-a-half-year renovation at the hands of architect Thierry Despont that quadrupled its size, the Cactus de Cartier offerings include this ring in 18-karat yellow gold with more than 100 emeralds and five carnelians, set with a brilliant-cut diamond ($72,500).
*This article appears in the August 8, 2016 issue of New York Magazine.