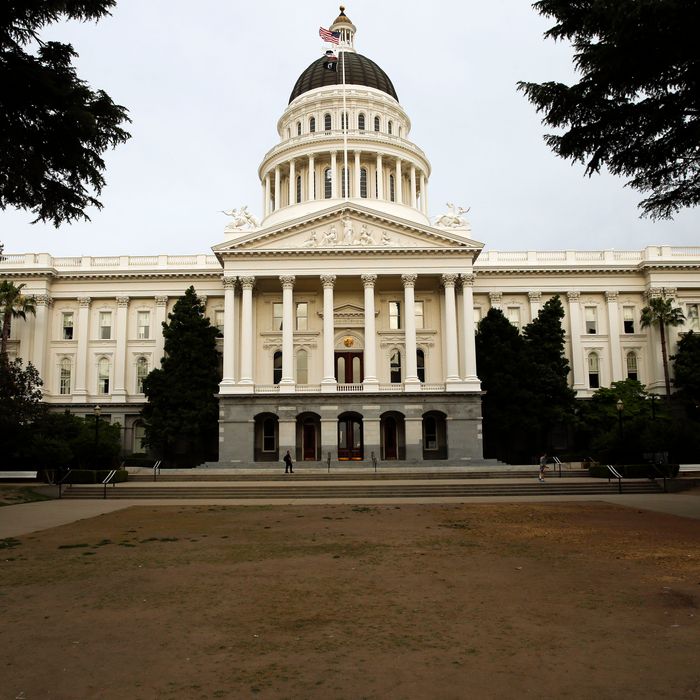 California's new rape bill awaits the governor's signature.
Photo: Patrick T. Fallon/Bloomberg via Getty Images
Brock Turner, the 20-year-old Stanford student who sexually assaulted an unconscious woman behind a dumpster in January last year, will be released from prison this Friday after serving only three months — just half of his six-month sentence.
Now a bill is headed to California Governor Jerry Brown's desk that will close the loophole that allowed Brock to receive such a lenient punishment.
Brock's case and the subsequent sentencing caused widespread outrage. Though he was convicted of assault with intent to commit rape of an intoxicated woman, sexually penetrating an intoxicated person with a foreign object, and sexually penetrating an unconscious person with a foreign object, Judge Aaron Persky, who was overseeing the trial, gave Brock only six months of jail time instead of the six years prosecutors were seeking.
Persky argued that jail would have a "severe impact" on Turner.
Criticism of Judge Persky following the verdict has been vocal and unrelenting. He announced last week that he will no longer hear criminal cases, and he is currently battling an effort to recall him.
As it stands, California law requires prison terms in convictions for rape and sexual assault, but those requirements don't apply if the victim was unconscious or too impaired to resist. The new bill, which easily passed California's Democratic-controlled legislature yesterday, would change that.
"Sexually assaulting an unconscious or intoxicated victim is a terrible crime," said Democratic Assemblyman Bill Dodd, a co-author of the legislation, in a statement following the passage of the bill, "and our laws need to reflect that."
The new bill would strip judges of their ability to sentence offenders to probation in cases of sexual assault where the victim is incapacitated. If it had been in effect when Brock was convicted, he would be facing a minimum of three years in prison.
Now all eyes are on the state's governor, Jerry Brown, who has so far not said whether he intends to sign the legislation into law or not.