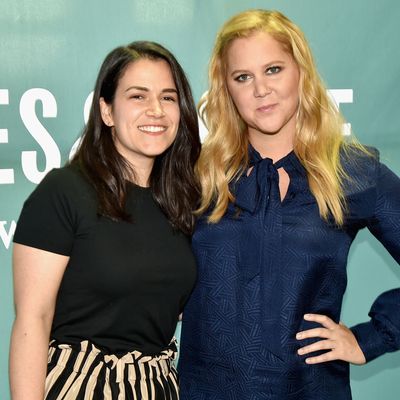 She and Abbi Jacobson were discussing The Girl with the Lower Back Tattoo
Photo: Theo Wargo/WireImage/Getty
Last night at Barnes & Noble Union Square, Amy Schumer celebrated her first day as a published author alongside Broad City's Abbi Jacobson, who moderated a Q&A on The Girl With the Lower Back Tattoo. Schumer was wearing a navy dress accented with a silk ribbon around her neck. "If you don't wear, like, a silk bow, you haven't written a book," she explained to the audience of about 300. Little did she know that her fashion choices would soon come up again in a very dramatic way.
Around 7:10 p.m., while Schumer was signing books onstage, five protesters burst from the fourth-floor escalator, rushing past security guards to position themselves between Schumer and the audience. They carried signs decorated with the crossed-out logo of outerwear company Canada Goose and photos of Schumer wearing one of the brand's fur-trimmed down jackets. The first protester yelled something about Schumer giving money to an organization that kills innocent animals. According to Canada Goose's online FAQ, their jackets are made with "real coyote fur because it is highly abundant. In fact, in many regions of North America, coyotes are considered a pest as they attack livestock, endanger prey species, pets and sometimes people."
"The second I found out about that —" Schumer began, but her words were drowned out with the protesters' chants of "Canada Goose, animal abuse!" and "Fur trade, death trade!" This prompted a response chant from The Girl With the Lower Back Tattoo buyers: "Let her speak! Let her speak!"
As security corralled the protesters and led them away, Schumer walked over to a lectern with a microphone. "So it was a pleasure meeting you guys," she said, commenting on the "funny" scene before addressing the charges. "So I get sent some free shit, which I wear because I don't know how to dress myself. I got sent a Canada Goose jacket and then I wore it and then I read that they tortured coyotes or whatever. So I said, 'I'm going to stop wearing that,' and I did."
She paused, then deadpanned, "But now I think I'm going to start again."
Schumer is far from the only celebrity who has been photographed wearing a fur-lined Canada Goose coat. The list includes Claire Danes, Blake Lively, Elizabeth Olsen, Emma Stone, and Kate Upton, who wore one on the cover of Sports Illustrated's 2013 "Swimsuit Issue."
"We know that whether or not people want to wear fur is a personal choice, and we respect that," reads the Canada Goose FAQ. "In turn, we hope that people will respect our ethical and responsible use of fur."
Schumer herself is no stranger to activism. In July 2015, two people were killed and nine others were injured in a shooting during a screening of her film Trainwreck, in Lafayette, Louisiana. Ever since, the comedian and actress has been a vocal proponent for universal background checks and responsible gun ownership. She devoted the final two pages of her book to naming the elected officials in Congress who have accepted money from the gun lobby.