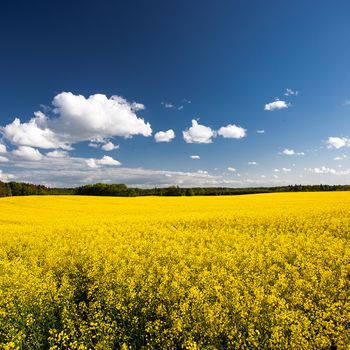 Photo: by Piotr Jaczewski/Getty Images
It looks like the residents of the Canadian town of Tisdale will not have to give any more awkward explanations for their town's slogan. Up until Monday, the town of 3,500 had the eyebrow-raising slogan of — get this — "The land of rape and honey." After years of complaints about the obvious problems with the slogan, there's finally something to take its place.
The small town on the Saskatchewan prairie in Canada proudly called itself the "rape capital" of the country, according to The Guardian. The slogan, more than six decades old, referred to an edible form of rapeseed, a mustard-colored plant that fills the surrounding region. Rapeseed is an older name for canola oil, but the town had some sticklers for tradition who, as early as last year, weren't too eager to let go of the slogan.
"From what I understand a lot of people feel there's a tradition involved in that," Sean Wallace, a town official, told The Guardian. "That's something I can't fault." The town officials, though, decided to survey residents and business owners about the slogan last year. In their survey they asked, "Is it time for a change?" They offered a not-so-subtle hint at the problem by capitalizing the word "Rape."
The good people of Tisdale picked up on the hint and resolved to buck tradition. As of Monday evening, the town's website has their new slogan in place: "Opportunity grows here."