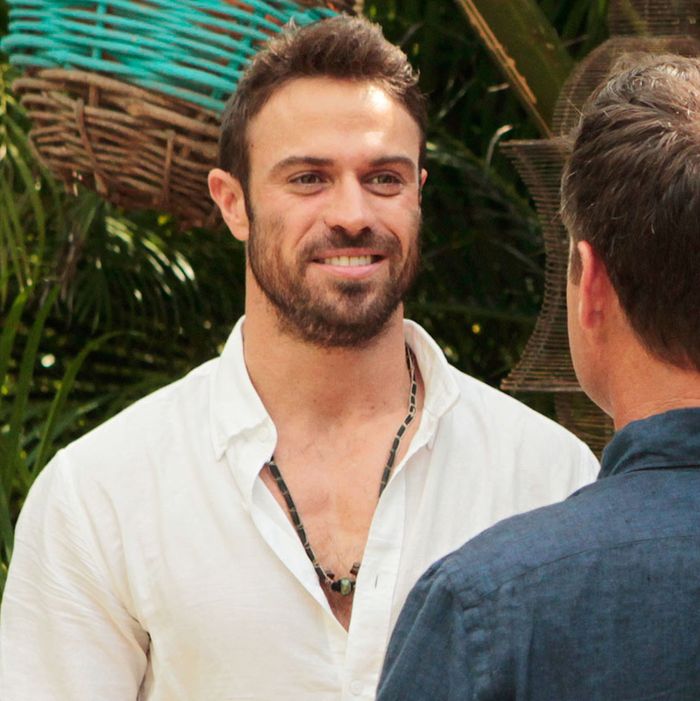 Chad Johnson, the Machiavellian meat eater we loved to hate on the Bachelorette, continued to fulfill his God-given purpose by serving up a whole season's worth of drama before getting kicked off the season premiere of Bachelor in Paradise last night.
Things got off to a rollicking start, as Chad hit the hot tub for a savage slap-fight makeout session with fellow franchise villain Lace (which involved screaming "dolla dolla bills yo" and "tell that to my Lamborghini" in a fake English accent). Unfortunately, their romance was brief, quickly degenerating into threats of violence mixed with nursery rhymes. "I will throw you under a bus and hold you down and duct-tie you up and make sure you smell like peppermint," he told her.
In short order: Lace got tired of his shtick, Chad repeatedly called her a bitch, Lace got furious, Chad began to lob drunken insults and threats at the rest of the group, Daniel told him the other contestants were worried he might be psychotic, Sarah called him out for being a terrifying misogynist, Chad said "fuck that one-armed bitch" and told her to "keep sucking that fame dick," and then he passed out and shat his pants. Love this franchise!
The next morning, Chris Harrison, adopting his usual condescending schoolmarm posture, told Chad he had failed his redemption tour by insulting Lace and Sarah and being belligerent to the hotel staff. Then, things got pretty dark. Like, UnREAL-level dark. A dumbstruck Chad said he really wanted to stay. He appealed to Lace, who said she was finished with him, even though he opened up to her about his mom's death the night before.

"I've got nothing, I've got nothing in my life," he yelled at Harrison while being escorted out. "You can do this and you think it's all fun and games; this is my life." He also told Chris Harrison to go fuck himself and accused him of going to sleep "with a mimosa and a robe on" instead of actually watching the show, which someone probably had to say at some point.
At this point, it's pretty clear that Chad should not be allowed to be drunk in televised group settings (he has since apologized, for whatever that's worth). I blame Chris Harrison, who knew exactly what he was doing by putting an unstable, potentially violent man on an island full of vulnerable people, with access to unlimited free booze. I wonder why he did that? Oh, right — Chad, much like the Rock, is franchise Viagra. Conveniently enough, according to the previews, he will be back to extend his moment in the spotlight next week. See you then!