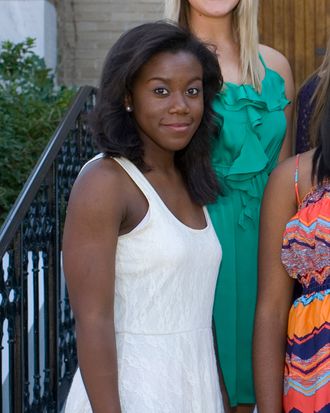 Jaelyn Young.
Photo: Melanie Thortis/The Vicksburg Evening Post via AP
A former honors student, cheerleader, and homecoming maid was sentenced to 12 years in prison Thursday after pleading guilty to attempting to provide material support to ISIS. Jaelyn Young and her fiancé, Muhammad Dakhlalla, were arrested last August when they attempted to board a flight to Turkey from Columbus, Mississippi, using tickets they'd purchased with her mom's stolen credit card. The couple had reportedly planned to pretend to honeymoon in Istanbul before hopping a bus to ISIS-occupied Syria. 
"I found the contacts, made arrangements, planned the departure," Young wrote in a farewell letter to her family. "I am guilty of what you soon will find out." She and Dakhlalla were drawn to the group's social-media posts, and according to court documents, Young began to complain about the treatment of Muslims in the U.S. and U.K. 
"Young continually asked Dakhlalla when they were going to join (the Islamic State group) and began to express hatred for the U.S. government and to express support for the implementation of Sharia law in the United States," prosecutors wrote.
She began to communicate online with people she thought were ISIS fighters, but turned out to be undercover FBI agents who tracked the couple down and arrested them before they could leave the country. Dakhlalla is set to be sentenced August 24.