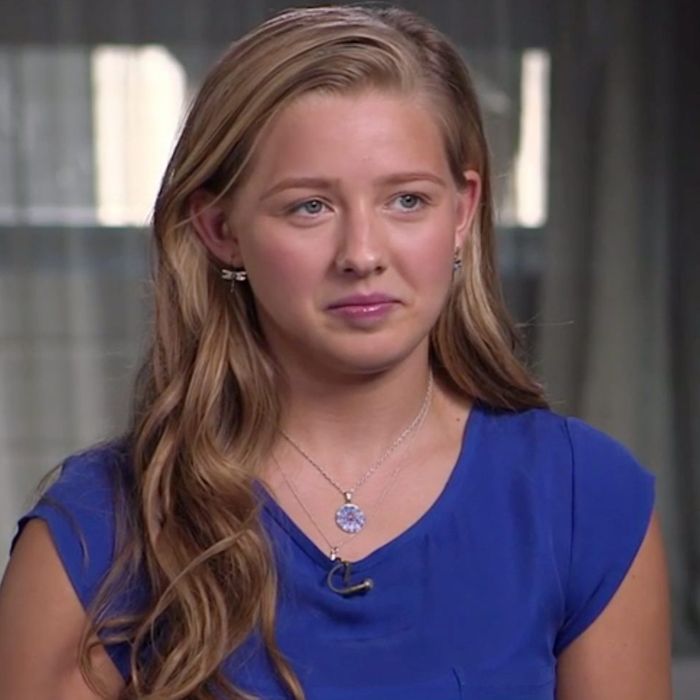 Chessy Prout speaking to Today's Savannah Guthrie.
Photo: NBC
Chessy Prout was 15 when Owen Labrie, a senior at St. Paul's School in Concord, New Hampshire, asked her out on a date. That was in 2014, and shortly afterward, Prout accused Labrie of sexual assault. Labrie was acquitted of three counts of felony sexual assault, but convicted on three lesser misdemeanor charges — a conviction he's currently appealing.
The ruling has always bothered Prout, who spoke publicly for the first time to Today's Savannah Guthrie Tuesday morning. "They said that they didn't believe that he did it knowingly, and that frustrated me a lot because he definitely did do it knowingly," she said. "And the fact that he was still able to pull the wool over a group of people's eyes bothered me a lot and just disgusted me in some way."
After Prout's family filed a separate lawsuit against St. Paul's alleging administrators didn't do enough to protect students, the school threatened to force Prout to reveal her identity at trial, claiming her family was dragging its good name through the mud "from behind a cloak of anonymity." So Prout decided to come forward of her own accord to stand in solidarity with other victims. "I want everyone to know that I am not afraid or ashamed anymore, and I never should have been," she said. "It's been two years now since the whole ordeal, and I feel ready to stand up and own what happened to me and make sure other people, other girls and boys, don't need to be ashamed, either."
During Labrie's trial last summer, Prout took the stand for three days. "It was something that was necessary," she said of testifying. "Although it was scary and although it was pretty difficult, I wouldn't be where I am today without having been able to speak up for myself."
But she told Guthrie that she was startled by the defense attorney's line of questioning: "A question I was asked on the stand was 'Well, why were you so hazy during that period?' I looked at the defense attorney in disbelief and said, 'I was raped.' I was just trying to go smoothly and not cause any waves."
She went on, "We had been prepared to just receive an apology letter. We had been prepared to finish this and just move forward with our lives and let them move forward with their lives. But, you know what, in the pursuit of justice, I would've done anything."
Prout said she tried to go back to St. Paul's, but most of the student body knew she'd been the one to press charges against Labrie. "None of my old friends that were boys would talk to me — they didn't even look me in the eyes," she said. "And nobody was talking about the issue itself. They weren't trying to prevent it from happening to anyone else."
Labrie was sentenced to a year in jail on misdemeanor charges, but he was initially free while his attorney appealed the verdict. In March, however, he was found to have broken parole, so he was taken into custody to begin serving his sentence immediately. He's currently housed at the Merrimack County House of Corrections in New Hampshire.