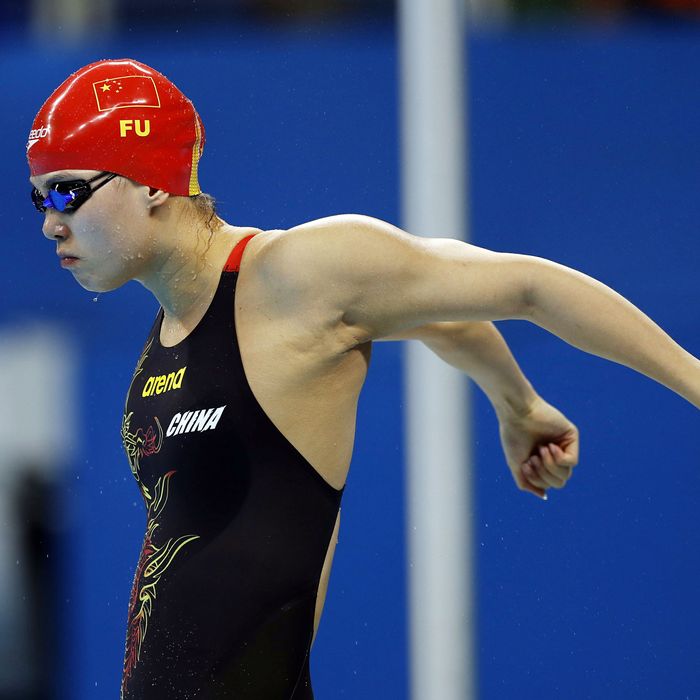 Fu Yuanhui.
Photo: NurPhoto/Getty Images
Emotive Chinese swimmer Fu Yuanhui has given very candid post-race interviews during the Olympics, and Saturday was no exception. After the Chinese team finished fourth in the 4x100-meter medley relay, Yuanhui apologized to her teammates for her performance.
Yuanhui, wearing glasses with her swim cap and goggles, was crouching on the ground when it was her turn to be interviewed. Her teammate helped her get up and the interviewer asked her if her stomach hurt, according to Shanghaiist.
"My period came last night and I'm really tired right now," she said. "But this isn't an excuse, I still did not swim as well as I should have."
Like tennis player Heather Watson before her, Yuanhui reminded us that athletes are people too: They get periods and sometimes have to compete during their periods on the world's biggest stage.

After Watson implied that her period was to blame for her nausea and blurred vision during the 2015 Australian Open — she referred to it as "girl things" — another former player, Annabel Croft, said menstruation was the "last taboo" for women in sports.
And like Yuanhui, Watson still blamed herself: "… it happens and you're dealt with different cards on different days and I should have dealt with it better. It's a real shame and it sucks."
But perhaps Yuanhui directly referencing her period is progress?