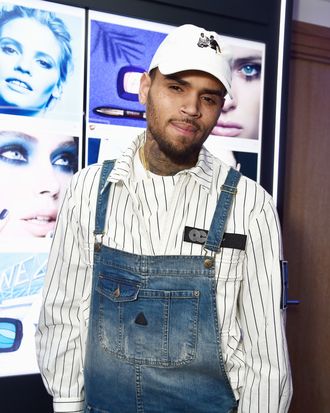 Uh-oh.
Photo: Pascal Le Segretain/Getty Images
An investigation is under way into a report that Chris Brown threatened a woman with a gun. The Los Angeles Times reports that LAPD were called to Brown's residence in Tarzana, California, after a woman placed a 911 call around 3 a.m. local time saying Brown had "pointed a gun at her during a violent rage."
According to TMZ, Brown was in his home at the time of the incident with singer Ray J, who was allegedly getting a tattoo there, when "uninvited guests" entered Brown's house. TMZ says the woman who made the 911 call was one of the uninvited guests whom Brown asked to leave. Ray J was also reportedly handcuffed briefly by police when he tried to leave Brown's home and had his car seized "as evidence." TMZ reports that, after obtaining a search warrant, police found "at least one gun, other weapons, and drugs" in Brown's home; Brown allegedly threw a duffel bag out of his window.
Meanwhile, Brown had posted videos on Instagram saying he "just woke up" — he calls the allegations "fucked up."
Update: According to the Los Angeles Police Department, Chris Brown has been arrested on suspicion of assault with a deadly weapon. Lieutenant Chris Ramirez told The Hollywood Reporter that several people were escorted out of the Brown residence after a search warrant was carried out on Tuesday afternoon, but gave no further information about the woman who made the initial call to police at 3 a.m.
This post has been updated throughout.