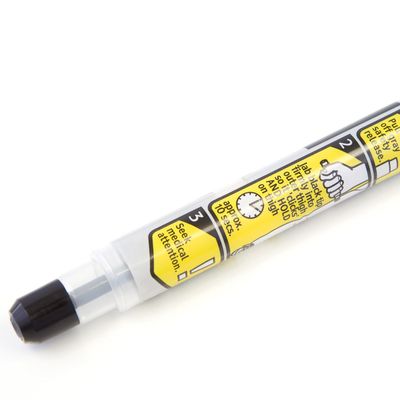 An EpiPen auto-injector.
Photo: BanksPhotos/Getty Images
Mylan, the maker of the EpiPen epinephrine auto-injector, has faced increasing scrutiny for raising the price of the device more than 400 percent since 2009. Thanks to the advent of high-deductible health plans, some families are paying hundreds of dollars out of pocket for a two-pack, which has a stated expiration date of one year (though people can apply for co-pay coupons). Now, two senators are urging the manufacturer to explain why the price of this device, which can be life-saving for people with severe allergies, has gone up so steeply.

Senator Chuck Grassley of Iowa, chairman of the Senate Judiciary Committee, wrote to Mylan's CEO Heather Bresch asking how her company determined the price of the product and what changes had been made to justify the increase. He noted not only that access to EpiPens can mean the difference between life and death but also that many children prescribed them are enrolled in government health-care programs and taxpayers are absorbing the ever-higher cost. Same goes for any public schools or government institutions that keep EpiPens on hand.

Senator Amy Klobuchar of Minnesota has previously called for a Judiciary Committee inquiry and yesterday she wrote to the Federal Trade Commission urging them to investigate the company for a possible violation of antitrust laws.

Two New Jersey state senators have also called for an investigation into Mylan's pricing practices and it's inevitable that more lawmakers will pile on.