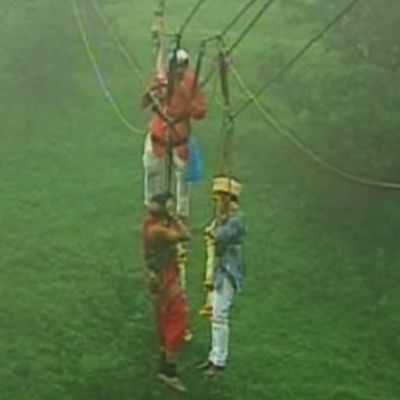 What is the point of getting married? I'll tell you: It's a momentous opportunity to make friends and strangers alike incredibly jealous as they scroll through your wedding hashtag on Instagram and note all the details you got right. But your tasteful string lights, reclaimed-wood dinner tables, charming peony arrangements, and vintage wedding dress have nothing on this couple who got married in midair.
Zehdir and Reshma, a couple from the western Indian city of Kolhapur, decided to tie the knot while hanging on harnesses nearly 300 feet above the ground. According to ABP Live, both the bride and groom are trekking enthusiasts, so they're used to such adventurous feats.
The groom reportedly said, "I wanted to make my wedding different" — which, coincidentally is the unofficial Pinterest motto. Congratulations to the happy couple on following through with that.