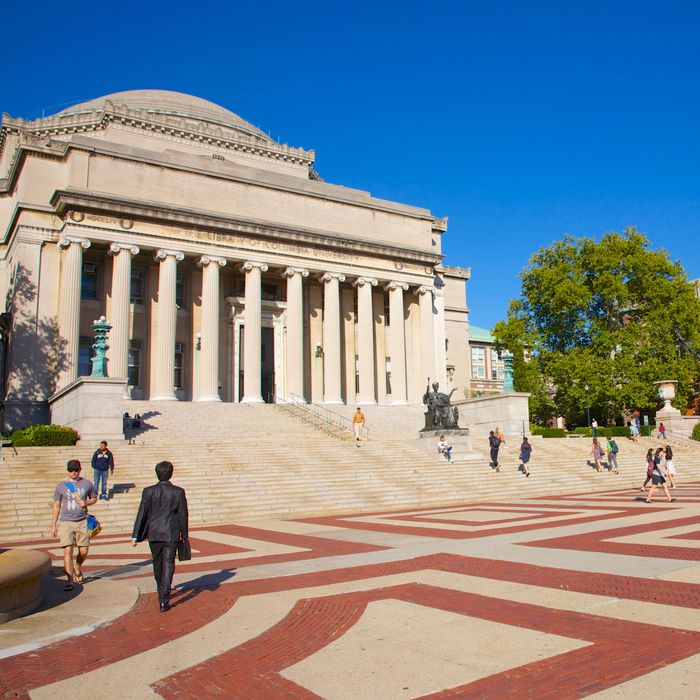 Photo: Barry Winiker/Getty Images
As if the procedures in place for handling cases involving sexual assault on college campuses weren't muddled enough, things have just gotten more complicated.
On Friday, the Second Circuit U.S. Court of Appeals threw a wrench into the current landscape. Or rather, they threw a bone to male defendants everywhere who've been accused of sexually assaulting women on campus.
The Second Circuit U.S. Court of Appeals revived a previously dismissed case involving a male student at Columbia University who was accused of sexually assaulting a female student and subsequently suspended from the university for a year. The defendant then claimed that Columbia mishandled the case because the university's investigator didn't do her homework while researching whether the allegations against him were true.
Not only that, but the student's legal team claims the university's investigator and Columbia's officials operated with a particular bias against their defendant because he was a male student accused of sexual assault and the university didn't want the bad publicity associated with the case.
All of this now means that the Court of Appeals has effectively allowed a male student to proceed with a case claiming protection under Title IX, which bars gender discrimination in federally funded education institutions. Historically, Title IX has been used by women to fight against discriminatory policies. Now, "John Doe" can proceed with his claim that the university operated with an "anti-male bias."
Male defendants haven't previously been able to successfully move forward with cases where they claim that they were discriminated against because of their sex. But this particular case at Columbia has some details that gave the court pause, such as not informing the student of his rights during the proceedings.
Universities and colleges across the nation have been under increased pressure to better handle cases involving sexual assault and it's not too hard to think, the court said, that the university acted out of a fear of public reprimand.
"[I]t is entirely plausible that the University's decision-makers and its investigator were motivated to favor the accusing female over the accused male, so as to protect themselves and the University from accusations that they had failed to protect female students from sexual assault," wrote Second Circuit Judge Pierre N. Leval.
The court didn't rule on the merits of the case, but rather on whether the male student's claims could potentially hold up in court. But this might have some more serious repercussions for universities that reprimand accused students, according to Inside Higher Ed.
"The decision will encourage many more courts not to dismiss comparable Title IX complaints at early stages," Gary Pavela, editor of the Association of Student Conduct Administration's Law and Policy Report and former president of the International Center for Academic Integrity, told Inside Higher Ed via email. "That means more litigation, more discovery and more settlements. More settlements are likely because not many university defendants (or their insurance companies) want juries deciding these matters, especially when standards for consent are so broadly and vaguely written."