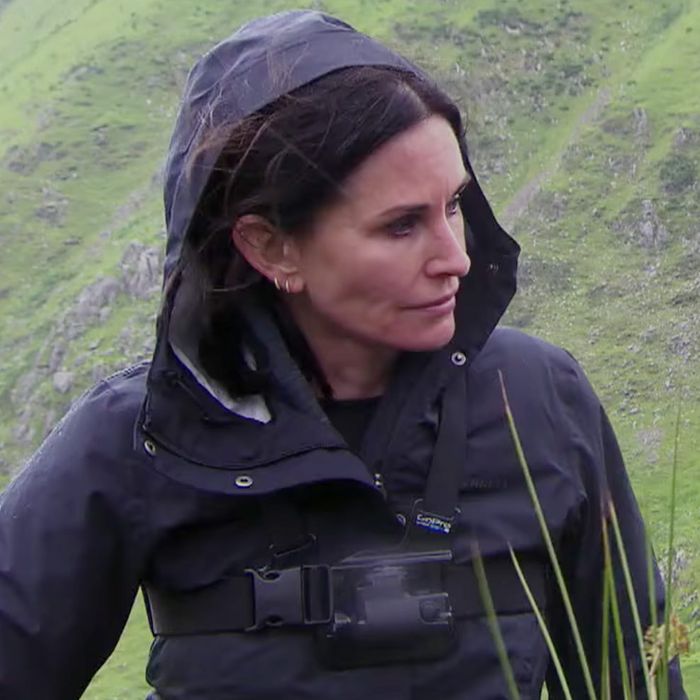 Courteney Cox and Bear Grylls
While most celebrities choose to bare their hearts in more traditional venues — say, a Huffington Post op-ed, or a friendly late-night interview with one of the Jimmys — Courteney Cox recently unburdened herself after chomping on soggy sheep carcass in the hills of Ireland with Bear Grylls.
"Being a woman in this business, getting older, that's not the easiest thing. But I have learned lessons. I think I was trying to keep up with getting older and trying to chase that," Cox confessed to Bear Grylls, a man who makes his living proving that humans can dominate nature via sheer will (and who shares a hairstylist with Kate Middleton). "It's something you can't keep up with."
"Sometimes you find yourself trying and then you look at a picture of yourself and you go, 'Oh god, I look horrible,'" she continued. "I have done things that I regret and luckily there are things that dissolve and go away. So that's good, because it's not always been my best look."
When Grylls asked whether Cox feels overwhelmed by fame, the actress demurred, "I don't feel burdened by it, but people can be mean though, on social media. The comments, if I ever want to feel really bad about myself I just click on one of those Daily Mail comments."
It's a remarkably candid and vulnerable interview, which makes me think maybe we should make all our celebrity press junkets a little more like episodes of Running Wild With Bear Grylls. Nothing like a scrotum full of maggots and a couple of hours of rigorous cardio to help you let your guard down.