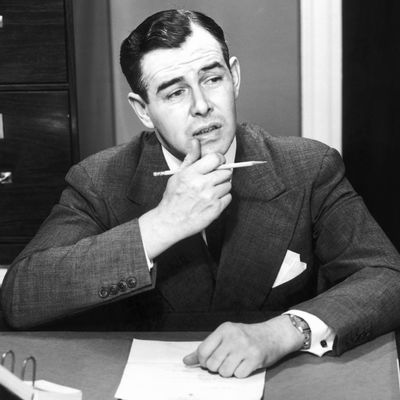 Photo: George Marks/Getty Images
Lately I've been thinking about writing. Some writers are bad at writing, while others are good. But being good at writing is often not enough: One must also be gracious when writing about female presidential candidates. The best writers in the world are able to turn good writing into great by calling upon graciousness and intelligence in the face of an anti-intellectual world.
David Brooks — who today published "The Art of Gracious Leadership," a musing on why Hillary Clinton is not, unlike "Lincoln, Gandhi, Mandela and Dorothy Day," a gracious leader — is not one of those writers.
Good writers, just like the subject of David Brooks's latest spaghetti-at-a-wall op-ed, are "humble enough to observe that the best things in life are usually undeserved — the way the pennies of love you invest in children get returned in dollars later on; the kindness of strangers; the rebirth that comes after a friend's unexpected and overawing act of forgiveness." Some gracious writers I can think of: Flannery O'Connor, Toni Morrison, Yaa Gyasi, Janet Malcolm, Ida B. Wells. Such writers write well and also generously, giving their subjects the appropriate level of respect and fairness.
David Brooks writes for a living, but he does not seem to be transformed by the act of it. When writing about a female presidential candidate, he seems to make the same mistakes he's been making as a writer for nearly two decades. His posture is "still brittle, stonewalling and dissembling." David Brooks's columns are all the same.
"It's tough to surrender control," Brooks writes. But just like the rest of us, David Brooks can decide what sort of writer he wants to be.
A shame that he decided to be a bad one.