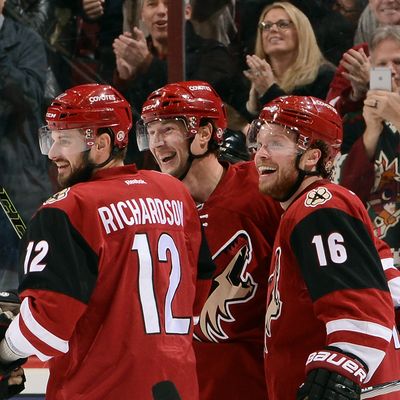 Look how excited they are to have a female coach!
Photo: Norm Hall/NHLI via Getty Images
The Arizona Coyotes hired Dawn Braid to be the team's full-time coach, making her the first woman to hold that position in the National Hockey League. Braid, who got her start on the ice as a figure skater when she was a child, was encouraged by her father to try her hand at coaching NHL skaters.
Braid's league career began in earnest in 2005 when she got a gig with the Maple Leafs at their development camp, and she went on to work with a number of other teams and star players before finally snagging a full-time position with the Coyotes. In her official statement, she said, "The fact that they respect what I do enough to name me as a full-time coach, or to name me as the first female coach in the NHL, I take a ton of pride in that. I've worked very hard for this opportunity. It's been going on for years and I just look forward to going even further with it."
In the past few years, a number of women have been hired for high-profile coaching gigs in men's pro sports, such as San Antonio Spurs coach Becky Hammon, Buffalo Bills coach Kathryn Smith, and Oakland A's guest instructor Justine Siegal. Braid told AZ Central, "There have actually already been female hockey players that I work with that have reached out that want to follow in my footsteps. I've encouraged them, told them the opportunity is there, that they need to work hard and learn."