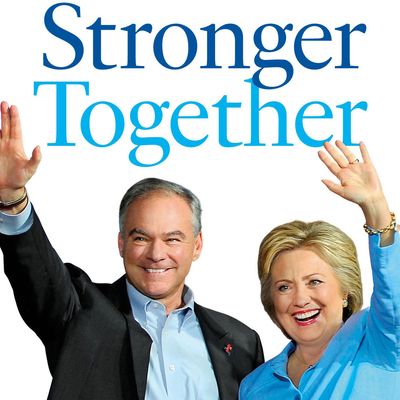 Hillary Clinton and Tim Kaine are releasing a new book called Stronger Together, a political blueprint "outlining the Clinton/Kaine campaign's plans on everything from apprenticeships to the Zika virus." Well, sure, it could be that. But with its Serif-heavy font, kitschy imagery, and what I have to assume is a deliberate absence of good taste, it could also be the cover of a new Elena Ferrante book.
Really, if you think about it, Hillary is a classic Ferrante narrator (an Elena, not a Lila): diligent, analytical, bookish, self-made, a feminist constantly struggling against the limitations of the patriarchy. Bill is, obviously, a Nino. Trump is Don Achille, the terrifying ogre with fascist ties. Tim Kaine is the Welder's Son.
Although, I will say, Stronger Together is not a great title. Some alternatives:
-The Story of a New Name, Which I Changed for Political Reasons
-Those Who Leave and Those Who Stay in Government 
-The Story of the Lost Child-Care Plan
-My Brilliant POTUS 
Is Elena Ferrante Hillary Clinton's ghostwriter? Stranger things have happened this election cycle!