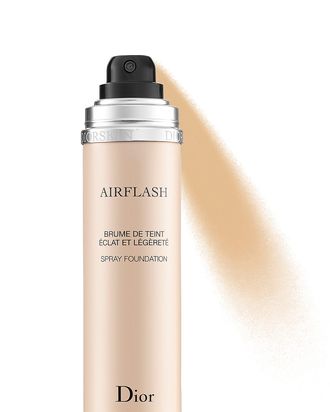 There's something about summer and time: The nights are endless, but the mornings happen in the blink of the eye. When I don't have time during the a.m. rush, I usually head out the door barefaced, but recently I've turned to the five-second miracle maker known as Dior's Airflash for a speedy face.
Airflash is a spray that mists a fine layer of foundation over your face. It's been around for a few years, but a new rollout of shades make the foundation extra enticing (I'm new shade 501, if you must know).
Spray for five seconds to deposit a thin layer of product over your face that looks even, perfectly blended, and, when dry, semi-matte. You don't need a sponge or brush to sweep over any additional product, it's just so darn good. After a quick mascara application (your lashes will turn brown because of the spray) you can head out the door. If only finding the perfect summer outfit was as easy.
Diorskin Airflash Foundation, $62 at Sephora.