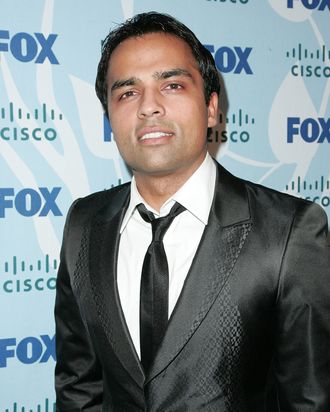 Gurbaksh Chahal.
Photo: Jason LaVeris/Getty Images
In 2013, tech mogul Gurbaksh Chahal was caught on surveillance video kicking his then-girlfriend 117 times in 30 minutes. He also smothered her with a pillow for 20 seconds, and a San Francisco police officer told the San Francisco Chronicle: "She stated that he said, 'I'm going to kill you' four times. She stated she was in fear for her life."
Chahal was reportedly charged with 45 felony counts of domestic violence for the attack, but after a judge ruled the video was inadmissible in a court of law because it had been seized without a warrant, all 45 charges were dropped. Instead, Chahal plead guilty to two misdemeanor charges, was given three months of probation, and was fined $500. But now, three years later, that video might finally put Chahal in prison.
Although it was previously barred from the courtroom, a judge ruled that the video could be used in a second case in which Chahal allegedly assaulted another woman in Las Vegas just five months later. In that case, the video was used to prove Chahal was a repeat offender — coupled with the second woman's 911 call, the evidence was enough to convince the judge that Chahal had violated his probation.
In a separate wrongful-termination lawsuit filed by one of Chahal's former employees, Yousef Khraibut, Khraibut describes how "Chahal, fueled by a toxic cocktail of prescription drugs, party drugs, alcohol, and sycophants, subjected his associates and … employees to daily abuse, humiliation, racist taunts, extortionate manipulation, tales of revenge, and threats of violence."
According to the suit, he was concerned with hiring women, but only women who fit his standards. "In one instance, Chahal researched a young, attractive female sales manager applicant by finding online photographs of her wearing a bikini, and then showing them to other male employees, including Khraibut, seeking their opinion on her breasts," the suit reads. "When Khraibut protested via Skype chat that it 'wasn't right' to be checking out a prospective hire's bikini pictures, Chahal responded, 'Research bro. Everything is online. I do this on every candidate.'"
The suit goes on, "Chahal frequently referred to women in the workplace in both vulgar and derogatory terms. For example, during the hiring process, Chahal would refer to allowing an attractive woman to proceed in the interview process, as a 'pussy pass.'"
Domestic Abuser Gurbaksh Chahal Could Go to Jail
Things you buy through our links may earn Vox Media a commission