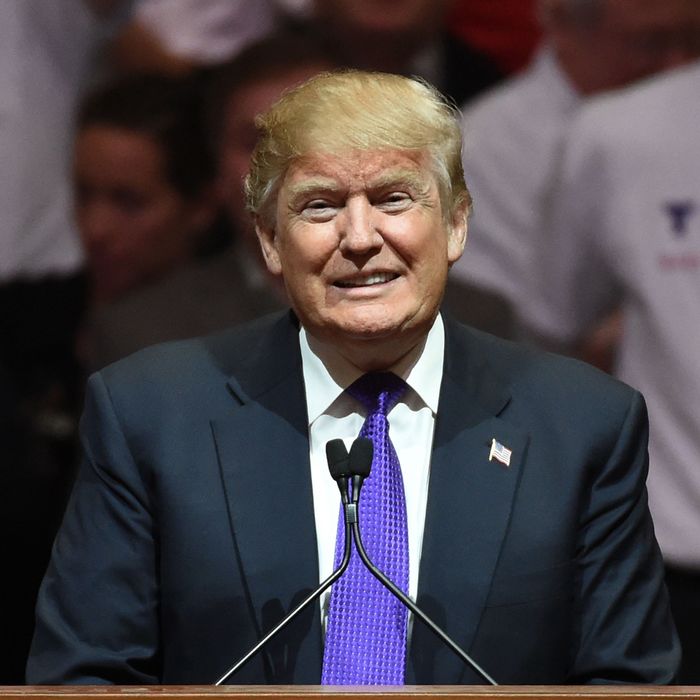 Awkward.
Photo: Ethan Miller/Getty Images
So far, Donald Trump has attempted to appeal to women by telling them their lives are easy, holding rallies that they do not attend, and trying to convince them that he's more pro-women than the woman who's also running for president. And a key component to his pandering has been his insistence that he hires female executives to run his various business ventures.
"I've hired tremendous numbers of women," he said during a radio interview in March. "Women are in my highest executive positions."
But according to Mother Jones, Trump's business records don't support his claims. Between 1995 and 2009, Trump reportedly ran his four casinos under the umbrella of Trump Hotel and Casino Resorts (THCR) and Trump Entertainment Resorts (TER). But based on Securities and Exchange Commission filings, only 6 of the 59 executives who worked in both organizations from 1996 to 2008 were women — about 10 percent. And of those six, none served on either company's board of directors.
Admittedly, part of the reason for Trump's puny number of women executives is that the gaming industry is known as a boy's club. A gaming-industry consultant told Mother Jones that during that decade, "I just don't think there were that many women that went into gaming." But if Trump was so determined to hire female executives, surely he should (and would) have broadened his search.
He did handpick at least two women to work at his Atlantic City casinos: His daughter, Ivanka, who was a TER board member from 2007 to 2009 (when the company declared bankruptcy), and his then-wife Ivana, who was president of the Trump Castle Hotel and Casino. He later said that "putting [Ivana] to work" was "a very dangerous thing" and ultimately destroyed their marriage.