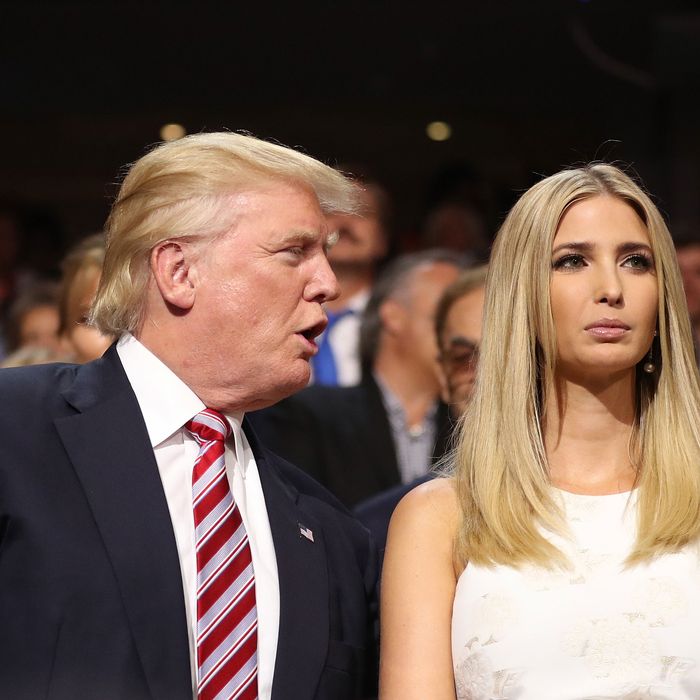 Donald and Ivanka Trump.
Photo: Joe Raedle/2016 Getty Images
Following a slew of sexual-harassment allegations — from Gretchen Carlson, along with multiple other women — Roger Ailes was removed from his post as the head of Fox News. Since then, Republican presidential candidate Donald Trump has come forward to call Ailes a "very, very good person," and to disparage Ailes's alleged victims. He also shared a disquieting view of what women in the workplace should do if they face sexual harassment when asked to imagine his daughter, Ivanka, in the same situation.
In a recent interview with USA Today, during which he was given a chance to clarify his comments, Trump continued to blame Carlson, saying, "There was quite a bit of fabulous things said [about Ailes by Gretchen Carlson]. It would be easier for me and more politically correct for me to say you are right. But you would think she wouldn't say those things." 
The interviewer, in an attempt to contextualize the harassment, asked Trump what he would think if Ivanka were sexually harassed at the workplace. He replied, "I would like to think she would find another career or find another company if that was the case."
Trump's previous comments on women in the workplace include the observation that pregnancy "is an inconvenience for a business" and that "putting a wife to work is a very dangerous thing."