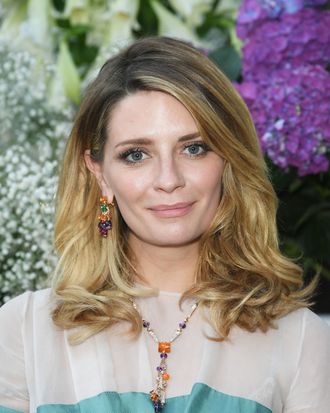 Mischa Barton.
Photo: Venturelli/Getty Images for Bvlgari
After her star turn as a gleaming, melancholy clavicle on The O.C. ten years ago, Mischa Barton faltered. She ran into some trouble with substances and money and now, in 2016, she is not really famous anymore. It seems like she wants to be, however, and I support that.
Though Mischa's recent appearance on Dancing With the Stars was an unmitigated disaster, it did propel her back into the spotlight: She's been showing up at all kinds of Hollywood parties lately and even hanging out with one of the Brant brothers. Mischa likes all of this, which you can tell by her tweets.
She is tweeting inspirational phrases. She is tweeting photos of herself in a bikini. She is retweeting praise of the same bikini photos. She even tweeted a photo of herself "on set." It's all sort of happening! Mischa Barton is one cable TV show away from becoming Minka Kelly, and I mean that in a nice way.
The problem is she is also one European vacation away from blowing the whole thing. TMZ reported this morning that a judge has ordered Mischa to pay a screenwriter $200,000 because she apparently went to Europe instead of showing up to work on his movie. Per TMZ:
In legal docs obtained by TMZ … a judge ordered Mischa to pay $200k, plus interest, to screenplay writer Daniel Lief for skipping town just as shooting was set to start for his movie, "Promoted." Mischa had scored the lead role. As we reported … producers sued Mischa when they saw pics of her all over social media … hangin' in Europe with a dude, instead of getting her ass to work. Daniel said the production delay — he had to recast the lead — cost more than $300k.
Goddamn it.
Mischa.
Don't mess this up!
Listen to your own tweets.