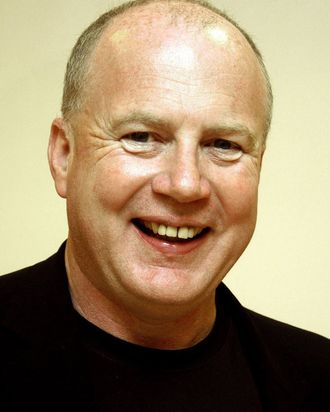 Kevin Roberts.
Photo: XABIER MIKEL LABURU/Getty Images
In case you missed it, last week, while most of us were enjoying watching a woman accept the Democratic Party nomination for president, Kevin Roberts, chairman of Saatchi & Saatchi advertising agency and head coach at Publicis Groupe, made some pretty unforgivable remarks regarding gender diversity in advertising. During an interview with the Business Insider, Roberts said, "the fucking debate is all over" — and insinuated that one of the most public advocates for gender diversity is fabricating the issue altogether. What followed was a sharknado of tweets, articles, and general outrage from the industry so deafening that Maurice Lévy, Publicis CEO, put Roberts on immediate leave until the board of directors could decide his fate. Unwilling to await the verdict, Roberts resigned, and issued a statement apologizing for his "miscommunication."
Face-palm. That was a dumb way to end a great career. Sure, there are some statements that Roberts made that are unforgivable and maybe a few that could be categorized as "miscommunication," but perhaps his most interesting comment deserves a little more unpacking. Here is one of his quotes: "… their ambition is not a vertical ambition, it's this intrinsic, circular ambition to be happy. So they say: 'We are not judging ourselves by those standards that you idiotic dinosaur-like men judge yourself by'. I don't think [the lack of women in leadership roles] is a problem. I'm just not worried about it because they are very happy, they're very successful, and doing great work."
Roberts is asserting that some women lack vertical ambition. That we're happy just collaborating and doing the work on the ground level. Sure, not all employees seek leadership for the sake of leadership — that's a gender-neutral truth. However, in advertising (as I suspect is the case in most industries), it's not possible to advance unless you assume managerial responsibility. Some people are gifted, driven, and astounding doers, and some are inspiring, nurturing, and results-oriented managers. If there was a way to advance in salary and success without having to assume a managerial role, I suspect many professionals would happily oblige.
But for those of us who are destined to lead and inspire through management in advertising … maybe, just maybe, we politely decline because the industry has made it such a goddamn nightmare. I was once a creative director in a North American office of a global advertising agency. At that point, there was a (male) chief creative officer, whom I worked for directly, then about 18 teams assigned to the consumer marketing portion of the agency. One female who reported to me (the only female who reported to me) came back from lunch with her male peers visibly upset. When I asked what happened, she confided in me that the CCO had told her male counterparts to give me a hard time and dismiss anything I say. She sat at lunch and listened while they all bragged about how well they followed his orders, each sharing their own stories, trying to top each other, and laughing about it.
A few years ago the number of women in leadership roles in advertising was a whopping 3 percent. Currently it's just over 11 percent. The closer you get to the top, the fewer of us there are. Those few women who struggle their way to the middle or top, having shrugged off incidents of sexism on almost a daily basis, do so only to arrive at a whole new level dominated by men, rife with more sexism and misogyny. How appealing does that sound?
We don't lack vertical ambition. If Roberts had spent some time investigating the situation further he would have seen that perhaps we're happier at lower levels where we have control over ourselves and the quality of our own work. Or that if we stand tall and vertical we're surrounded by a thick cloud of people who do not respect our authority, and in some instances are even told to blatantly oppose it. That's not a lack of vertical ambition. That's not even happiness. That's self-preservation, self-respect, and accepting that we're not gluttons for punishment.