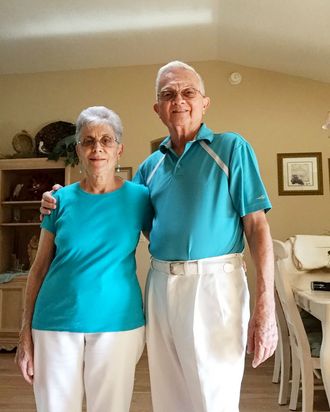 Photo: Courtesy of Twitter/AnthonyGargiula
Research already shows that long-time married couples become biologically alike, but one elderly couple is solidifying their bond on the superficial front as well. Seventeen-year-old Anthony Gargiula says that his grandparents, married for 52 years, match outfits every day.
His tweet featuring four of their looks has quickly gone viral, leading him to inform his grandparents of the news (and yes, they're matching again).
It's sweet in a vaguely co-dependent way but, more than anything, I'd like to be a fly on the wall when they're picking out their outfits. How are their closets organized? Who gets to choose the look of the day? Is there a vision board?
The public demands a matching-grandparents style blog.