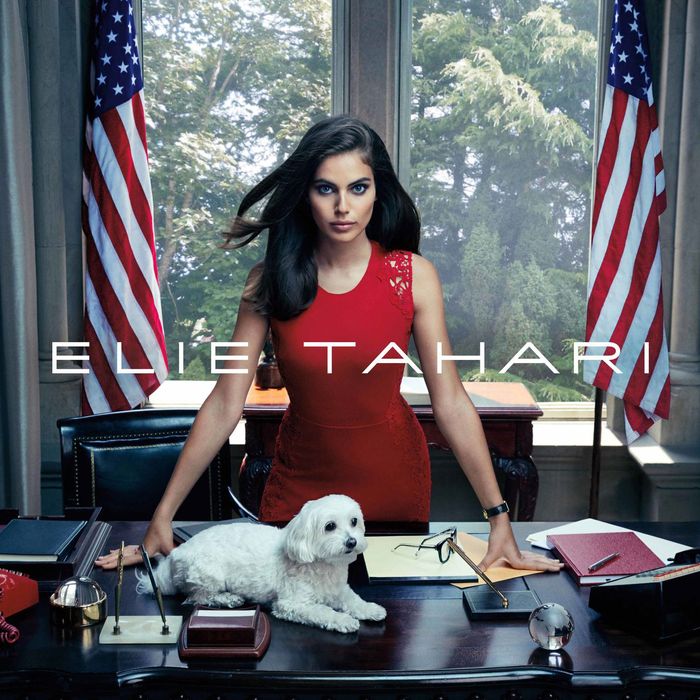 From Elie Tahari's new ad campaign, "Madam President."
Photo: Courtesy of Elie Tahari
The fashion world hasn't exactly been subtle about its support for Democratic nominee Hillary Clinton; there are even rumors Anna Wintour is curating Clinton's campaign wardrobe behind the scenes. Earlier this summer, Elie Tahari hinted that its fall campaign might have something to do with a woman in the Oval Office, and on Tuesday the designer told the New York Times that he's "proud" of the ad campaign and what it represents.
"We have a choice between a man and a woman, and the woman is smarter and more humble, and I wanted to say I support that," he said, referring to the presidential race. "I think she's the best choice."
One image from the campaign features a model in a red sheath dress standing commandingly behind the presidential desk, crisis hotline and briefings (and dog) at the ready. Another shows the same model striding through the corridors of the White House surrounded by Secret Service and reading over the shoulder of a white-haired male aide.
Tahari did offer a gentle critique of Clinton's campaign style thus far: "She's very tailored now, but I think she could go more feminine, and flowy," he said. Perhaps he'll drop by HRC's Fashion Week fundraiser to give Anna some ideas.