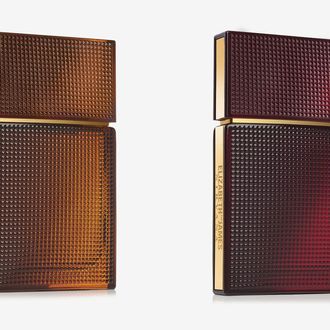 Elizabeth and James's Nirvana Rose.
Photo: Courtesy of Elizabeth and James
Roses are universally pretty to look at, but bottled and spritzed, they become polarizing. I, for one, love a good rose fragrance. Formulated with the right blend of supporting notes, rose perfumes can ring airy, bright, or sexy. Elizabeth and James's Nirvana Rose is a new approach to the rose scent. And by new, I mean it smells nothing like the flower at all.
Nirvana Rose arrives three years after Nirvana Black and Nirvana White, the brand's first set of fragrances. Following the launch pattern from three years ago, Nirvana Rose arrived on the same day as another Elizabeth and James fragrance, Nirvana Bourbon. Nirvana Bourbon is warm, slightly powdery, and carries trace notes of tuberose. Generally speaking, it's a rich fall fragrance and a delight. But this is about Nirvana Rose.
At first spray the eau de parfum smells juicy, but that quickly fades. What comes next is an electric, spicy scent that makes my nose crinkle. Ad-fragrance copy might mention it smells cold, or like outer space. Maybe that's true. Notes of geranium peek through the spice, but the vetiver layer is unforgiving and marks its earthy presence so strongly that at times Nirvana Rose reminds me of the medical notes of camphor.
Rose, however, never seems to shine through. Elizabeth and James writes that Nirvana Rose is confident, refined, and seductive. I might be one of those, but not all three. But if you are, then Nirvana Rose might be for you — just don't expect to smell like the flower.
Elizabeth and James Nirvana Rose, $65 at Sephora.