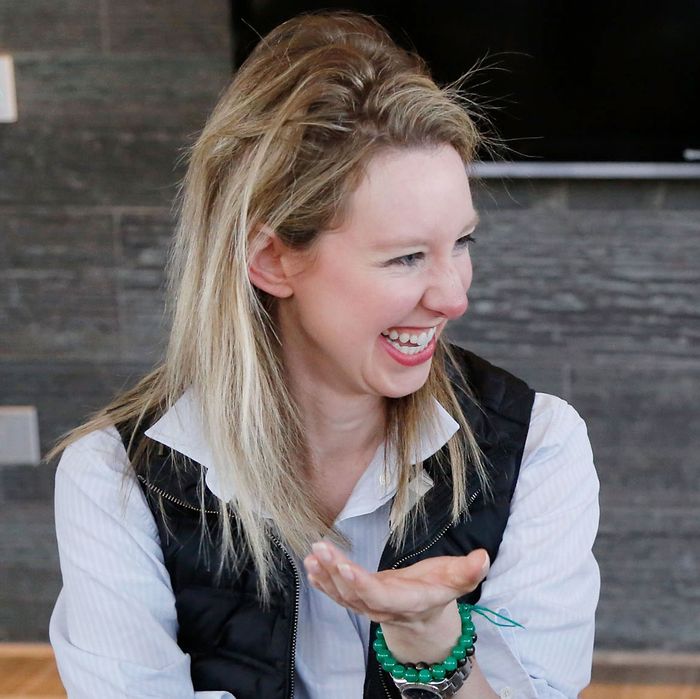 Elizabeth Holmes and Cindi Leive
Photo: Kimberly White/Getty Images for Glamour
Last time we checked in with Theranos founder Elizabeth Holmes, she was banned from operating a medical lab for the next two years after the company's blood-testing technology was discredited, and Theranos became the subject of a federal investigation. The Wall Street Journal published a series of articles showing evidence that Holmes misled employees and the public about the company's problems for quite some time.
However, at a dinner Glamour and Facebook hosted earlier this week in San Francisco honoring women in tech and politics, Holmes was front and center, next to editor-in-chief Cindi Leive. Clad in the very-SF combination of a puffer vest accessorized with an oversized Birkin, she mingled with fellow guests, like Congresswoman Jackie Speier. (We've reached out to a Glamour rep for a comment about Holmes's presence at the event, and will update this post when we hear back.)

The fashion world was quick to embrace the svelte and stunning Holmes, who embodied the Devil Wears Prada archetype of the "slim, lovely female paratrooper" to a T. (Remember the scene where Miranda Priestly requests more model-esque military personnel for a fashion shoot?) With her feet in the male-dominated worlds of science and tech, she made an attractive candidate for her STEM cred and ability to pull off a slim black turtleneck. Pre-scandal, she gave career advice in Glamour, which also selected her as a Woman of the Year. T magazine put her on the cover as one of its Greats, along with Rihanna and Jonathan Franzen, in its print edition, then quietly excised her from the online version of the story. Even her Henry Kissinger–penned Time profile focused on her looks, calling her "striking, somewhat ethereal." In their haste to find the archetypal woman who fit both fashion magazines' impossible ideals and Silicon Valley's impossible ideals, none of these publications looked too closely at her work.
Yes, fashion is a superficial business, too often fixated on looks over accomplishments, and women's magazines have pages to fill and events to seed with photogenic candidates. But it's surprising to see an example of the fashion industry still sticking with Holmes in this way. Are there really no San Francisco women in tech who could have taken her plum seat?