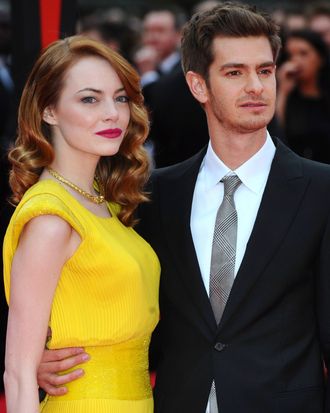 Emma Stone and Andrew Garfield.
Photo: Anthony Harvey/Getty Images
Beautiful, respected actors Emma Stone and Andrew Garfield tragically broke up with each other last year, but they were just spotted together in London laughing and smiling and looking so happy oh my God. The Daily Mail has the exclusive pics of their reunion, which you can view here. Did you click? Nice, right?
Emma and Andrew were together for four years, during which time they adopted an adorable dog who I hope is still okay. It would be great if they got back together for the dog and also all of us.
Unfortunately, People reports that Emma and Andrew are "just friends." A source told the magazine that despite the new photos, "they're definitely not dating."
That's one person's opinion!