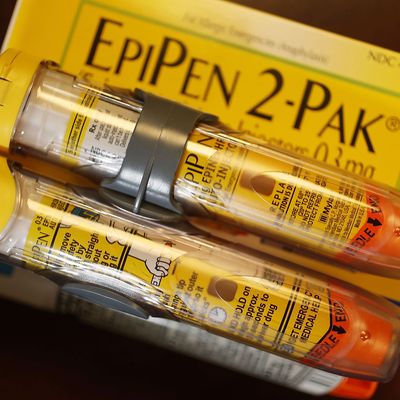 EpiPens.
Photo: Joe Raedle/Getty Images
After coming under fire for price hikes on its potentially life-saving EpiPen, pharmaceutical company Mylan said it will work to make the device more affordable with expanded discount programs. The retail price of the epinephrine auto-injector will remain unchanged.

The average wholesale price has gone up 500 percent since 2009, which prompted members of Congress to call for investigations. Presidential candidate Hillary Clinton urged Mylan to lower the price.

Today, Mylan said it would increase the value of coupons to up to $300 for people with high-deductible health plans, who face considerable out-of-pocket costs. The company will also double the income level at which families are eligible to receive assistance in purchasing the device; now, a family of four with an annual income up to $97,200 will pay nothing. Mylan will also work on allowing people to buy EpiPens directly from the company, which could save them money.

Mylan CEO Heather Bresch said in a statement provided to USA Today: "We recognize the significant burden on patients from continued, rising insurance premiums and being forced increasingly to pay the full list price for medicines at the pharmacy counter. Patients deserve increased price transparency and affordable care, particularly as the system shifts significant costs to them."

Here's some transparency: Mylan raised the price of EpiPens 15 percent every other quarter from the fourth quarter of 2013 to the second quarter of 2016, without making significant changes to the device.