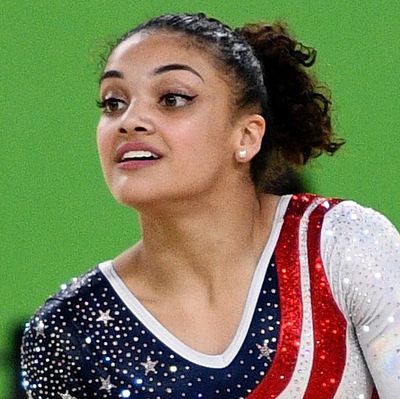 Photo: David Ramos/2016 Getty Images
While #PhelpsFace will likely take the title of most enduring meme of the 2016 Olympic Games, the most important GIF comes courtesy of sudden superstar Laurie Hernandez, who achieved two crucial honors last night in Rio: becoming a gold medalist in the women's gymnastics team all-around competition — the first repeat gold in that category ever for an American squad — and becoming Team USA's Olympic Sweetheart. Hernandez was the most animated member of the Final Five on the podium when her team was receiving its gold medals.
She inspired a nation to adopt the mantra "You got this" before undertaking any considerable challenge in their daily lives.
And she made us all believe joy is possible again in the abominable year that is 2016 when she played to the camera like a media-trained young professional beyond her 16 years.
But it was the move she made just before setting it off in her floor routine last night that encapsulates the spirit of American exceptionalism and the most dominating performances of our top athletes in Rio.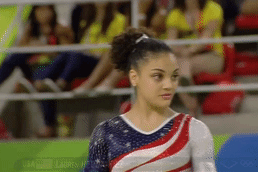 Laurie Hernandez, in her first major international competition, winked at the judges before the biggest floor routine of her elite gymnastics life. And then she crushed it. Laurie Hernandez winking is Michael Phelps getting revenge on Chad le Clos for beating him in the 200-meter butterfly event at the 2012 Olympic Games in London. Laurie Hernandez winking is Lilly King wagging her finger at a Russian swimmer caught for doping, and then saying on TV that Americans compete clean after beating said Russian in head-to-head competition. Laurie Hernandez winking is Katie Ledecky being undefeated so far in major international competitions. Laurie Hernandez winking before a routine is a gamble that had the potential to pay off big. Laurie Hernandez winking is America.
The wink is our new handshake, our new national gesture of greeting. So if you meet someone new today, make sure to give them a confident wink and start the conversation with "You got this," because that's what Laurie Hernandez would do. And Laurie Hernandez is a winner.