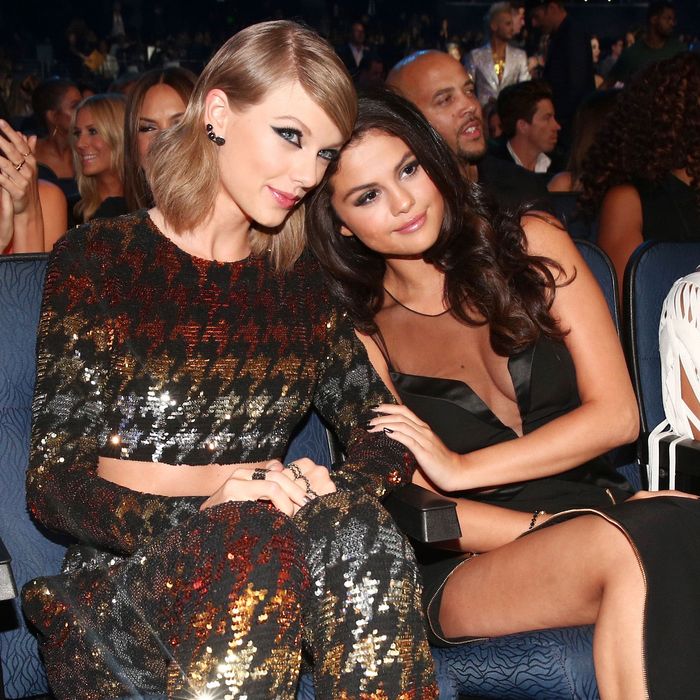 Recording artists Taylor Swift, Selena Gomez, and actress Serayah McNeill dance during the 2015 MTV Video Music Awards at Microsoft Theater on August 30, 2015, in Los Angeles, California.
Photo: Christopher Polk/MTV1415/Getty Images
If the VMAs are a high-school cafeteria, Taylor Swift is definitely the Regina George: Everybody wants to sit with her (but, like, you probably can't sit with her).
Yesterday, Cosmopolitan spoke to MTV music and talent vice-president Gina Esposito, who explained that celebs get to request whom they want to sit with at the annual spectacle. Apparently Taylor is the most in-demand seatmate, given all the real, not-at-all performative friendships that need to be accommodated.
"She has so many good friends, and it was hard to figure out the 'Taylor' of it all [in past years]," Esposito says, "because so many people were requesting to sit by her and sit with her. She's often really requested."
Even if you're not in Taylor's #squad, sitting next to her is probably a good idea, given that she's a reliable source of drama and terrible camera-friendly arm-dancing. Then again, this was before Kim Kardashian opened up her burn book and exposed Swift's villainy to the world. For all we know, maybe Taylor will be in the back this year, forced to share a row with Rihanna's distant cousins and some teens who won tickets online. High school can be so cruel!