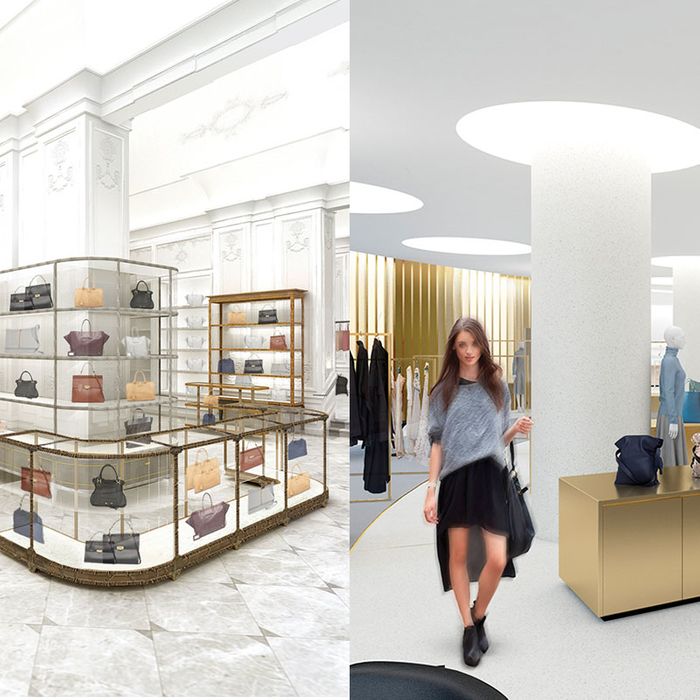 Bergdorf Goodman and Saks Downtown.
Every fall in New York brings its share of new big-box outposts, and this one is no different, with Target and Saks expanding downtown. But the city still has plenty of more-independent-minded ventures moving in. The months ahead will see openings of a design obsessive's home-goods boutique in the West Village and a reggae-focused vintage-record shop in Lefferts Gardens.
Side by Side
Big upgrades — a renovation and a new location — for two big department stores.
Bergdorf Goodman
754 Fifth Ave.; Sept. 6
Architect Michael Newman redesigns the main floor as a series of salons: the Luxury Room for designer handbags and jewelry with Chanel-designed fixtures; the Pavilion for emerging designer handbags and sunglasses with a Cubist marble floor.
Saks Downtown
230 Vesey St., early Sept.
Saks opens a Brookfield Place outpost that'll exclusively carry new brands like Vetements, Leur Logette, and Roberta Einer; two floors fill a rotunda space surrounding a polished plaster cylindrical tower, while a third hosts the appointment-only Fifth Avenue Club.
First Look
Todd Snyder, 25 E. 26th St.
Big-in-Japan menswear designer Todd Snyder plans his first local outlet with a bar and barbershop inside (mid-Oct.).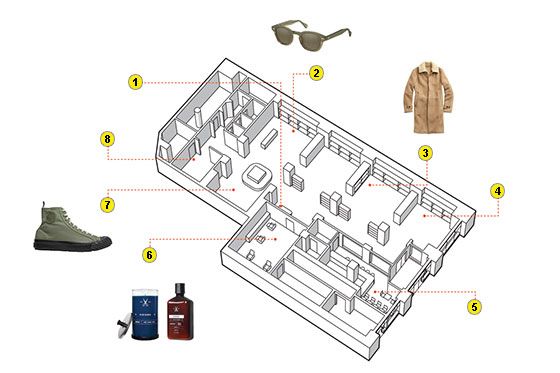 "A lot of bigger men's retail spaces can be intimidating, so I decided to make this a bunch of smaller shops inside the larger one. There's going to be a shoe shop for our nubuck P.F. Flyers ($149), a denim area for our indigo selvedge denim ($195), a Moscot eyewear shop (because I only wear Moscots), and a barbershop all cordoned off by charcoal shelves layered with flannel. There's also a tailor shop where we'll do made-to-measure, which brings my career full circle because I started off in fashion working at a tailor in Des Moines. There's a 25-seat bar, so guys could come just for a drink or stop by after shopping. But my favorite part is the floor. I'm friends with the guy from LV Wood — we did our first fashion show in his office — and he made me an oak called 'fumed hakwood.' He achieves the perfect color by putting the wood over a flame to burn it, as opposed to staining. It looks like lightly burnt toast."
Ask a Shop Clerk
Alison Lou, 20 E. 69th St.
The jeweler will bring her emoji-based designs to an Upper East Side showroom (late Oct.).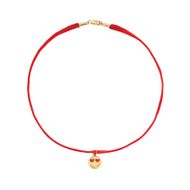 Why emoji?
"Jewelry is all about finding ways to express yourself, and emoji are the new way of communication. The funny thing is that this all started with BlackBerry emoji three and a half years ago. Since then, I've added ones like poop rings ($500) and pink velvet chokers with a heart-eyes smiley ($250). But at this point, it's more about telling a story with images than copying new emoji. I have 'screw' studs ($430) and 'love u' bangles ($2,400). I just made this pair of pink-and-green earrings for fun, so I'll have one-off stuff like that in the store. My favorite emoji right now has to be the new blue shooting star, but I'm not sure if I'll make a piece out of it."
Three in One
North Sails
108 Fifth Ave.
The sail manufacturer, founded by an Olympic gold medalist, will open its first brick-and-mortar, offering waterproof clothes, sailing accessories, and a water-tasting bar (late Oct.).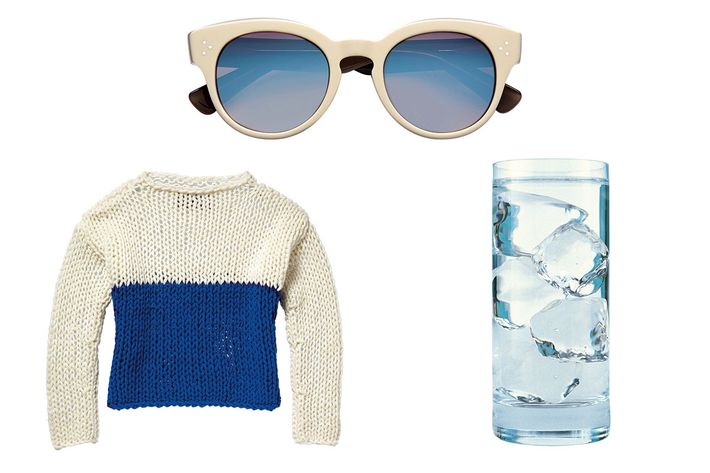 1. Performance Clothing: Men's double-hooded jackets — one lightweight, one heavier — depending on the conditions (from $325); women's reflective, water-repellent hydrowool sweaters (from $110) and neoprene raw-edge dusters (from $175) displayed over sailboatlike teak flooring and wire-rigged shelves.
2. Sailing Accessories: State-of-the-art full-face snorkel masks ($165), waterproof flashlights ($150), mini dopp kits ($130), and Salt Optics sunglasses (from $400) whose designs are inspired by ocean waves.
3. Water Bar: Bottled water from Canada, Italy, New Zealand, and Norway (from $2) to compare how waters taste around the world; educational events and presentations from top sailing talent.
Side by Side
Two new makers of handcrafted shoes — one Australian, the other Italian — come to Soho.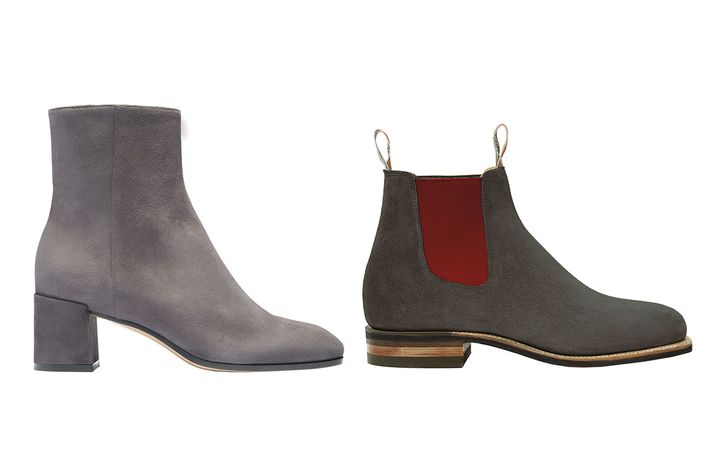 M.Gemi
120 Wooster St.; early Sept.
Story : Founded last year by start-up entrepreneur Ben Fischman, who partners with family-owned Italian shoemakers to create limited-edition styles that are released in batches every Monday.
Shoes: Women's pink Mary Jane Amante heels ($298), flower-printed Cammeo stilettos ($248), and gray Corsa suede boots ($348).
Setting: Video montages featuring the shoemakers; espresso, cappuccino, and other Italian treats; new layout and displays every week with each new shoe release.
R.M. Williams
152 Spring St.; Sept. 3
Story : Founded in 1932 by R. M. Williams, an entrepreneurial bushman who wanted to make boots that would survive the harsh conditions of the Australian outback.
Shoes: Men's gray suede slip-on boots fashioned from a single piece of leather ($545) and rich chocolate-brown leather driving shoes ($300).
Setting: Bespoke counter to customize boots; an installation by artist Mika Utzon Popov, who built a sculpture depicting what the outback looks like from above.
First Look
City Point, 1 Dekalb Ave.
In late September, the five-story complex will open in Downtown Brooklyn with an eat-in movie theater, Century 21, Target, and Katz's Delicatessen.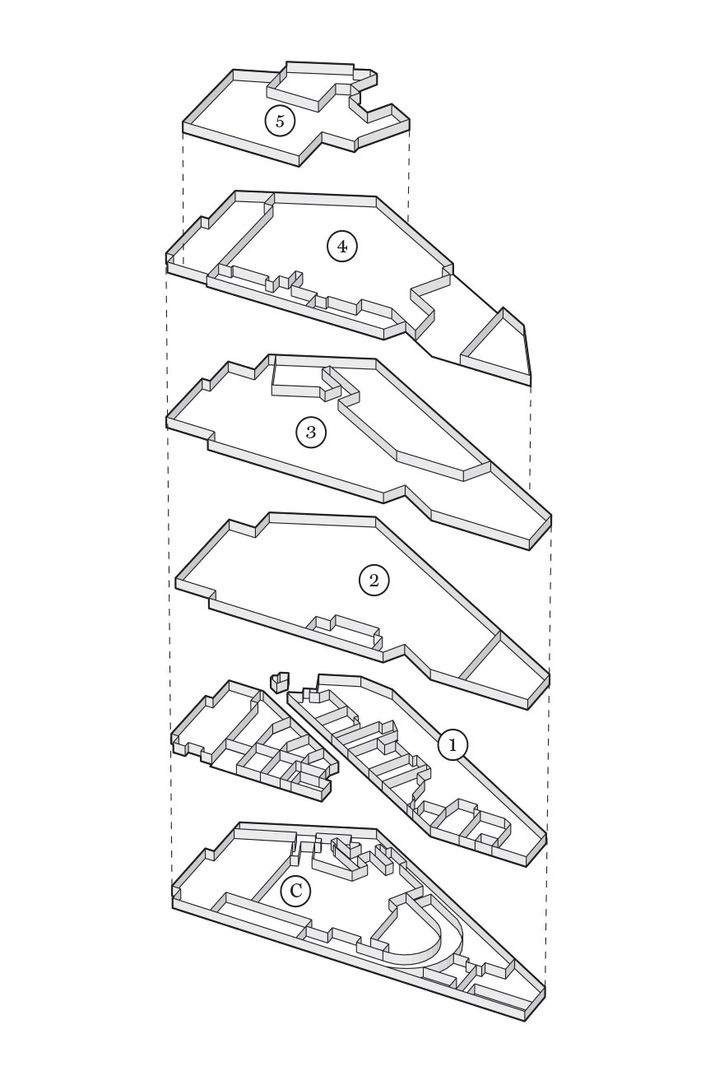 Basement
Trader Joe's: Groceries like blueberry poppy-seed cookies ($4) and spatchcocked lemon-rosemary chicken ($4.50 per pound) in an underground space even bigger than the nearby Court Street location.
DeKalb Market Hall: A Chelsea Market–like food hall anchored by a Katz's Deli.
Second Floor
Target: One of two smaller-than-usual "flexible format" Targets opening this fall.
Third and fourth Floor
Century 21: Discounted women's and men's fashion (including some Brooklyn-based designers), housewares, electronics, and luggage; in-store Brooklyn Roasting Company café.
Fifth Floor
Alamo Drafthouse: Seven-screen movie theater serving mini bành mì hot dogs ($9) and Irish-coffee shakes ($8) as the movie plays; outdoor terrace bar called House of Wax.
Top Five
Hawkins NY, 17 Eighth Ave.
Nicholas Blaine, one-half of the Hudson-based design duo Hawkins NY, highlights his favorite marble paper-towel holders and confetti glassware now available at his city outpost.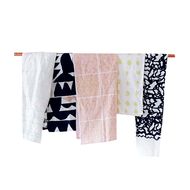 "We screen-printed the Texas artist Alyson Fox's designs onto these cotton and linen tea towels ($18). I love that they're this daily-use item that's artwork in its own way."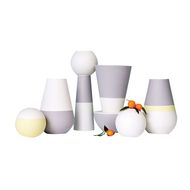 "My partner Paul and I designed a collection of vases that could be beautiful even without flowers. But I do love the wide-mouthed one called Up ($110) filled with peonies in the spring."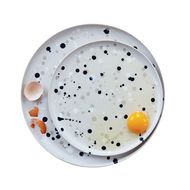 "This splattered dinnerware (from $34) is inspired by Jackson Pollock. Some small side plates mixed in with your other dishes is a great way to layer in pattern without it being too overwhelming."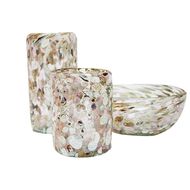 "Before these glasses (from $14) are shaped into cups, they're rolled in glass chips to create a confetti pattern. The small ones are really beautiful as votives because of how the light shines through."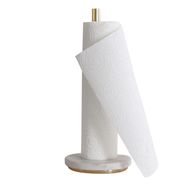 "I've bought nice-looking paper-towel holders before, and they're always too lightweight. The marble adds a nice hefty weight, and it's fun to have a luxurious utilitarian item ($120)."
2x2: Herman Miller, 251 Park Ave. S.
Modern seating available at the iconic designer's new flagship (December).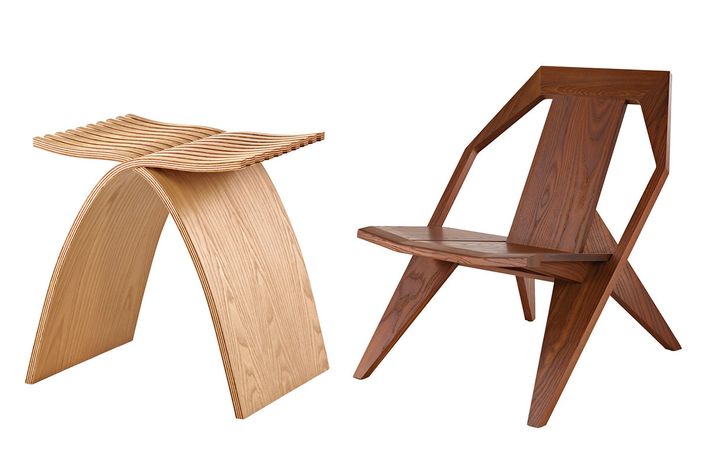 Wood
Stool: Capelli, by Carol Catalano, $539.
Armchair: Medici, by Konstantin Grcic, $1,575.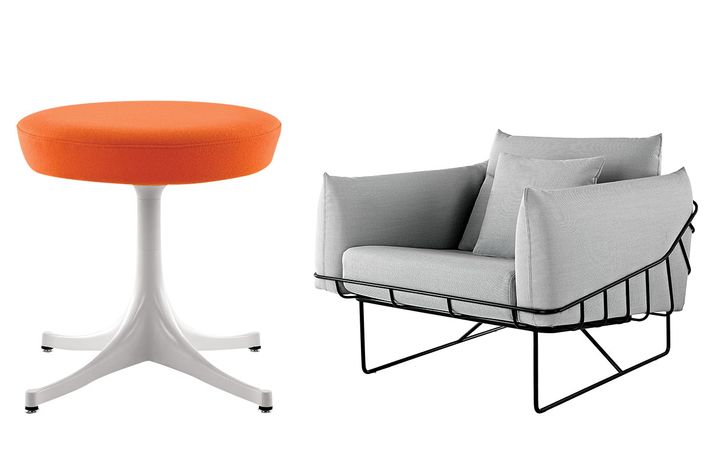 Cushioned
Stool: Nelson, by George Nelson, $829.
Armchair: Wireframe, by Sam Hecht and Kim Colin, $3,449.
Top Five
L'Objet, 370 Bleecker St.
Designer Elad Yifrach pairs waterproof platinum stools with magicians' bunnies at his home-goods boutique (Sept. 15).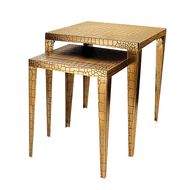 "Crocodile is our signature texture, and I like reimagining it on different materials. For these nested tables ($2,500), we etch the pattern onto brass by hand so it looks like it's made out of one piece of crocodile."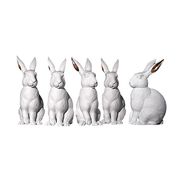 "My newest collection is all about games and magic. These porcelain bunnies ($295), the magician's helper, are a nice, whimsical touch. I'd put one on a desk or line them all up on a bookshelf."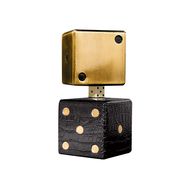 "The porcelain-and-brass dice ($250) look decorative, but they're actually boxes. You can use them to store playing cards or just hide things in plain sight."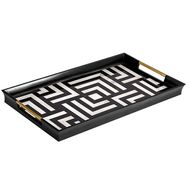 "This tray ($1,250) is made from black-and-white shells inlaid onto a wood base in this straight-line pattern that's the opposite of a shell's naturally curvy shape. I love that contrast."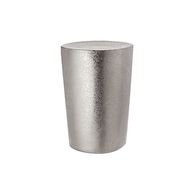 "People think this silver stool ($950) is platinum, but it's made out of porcelain. It's a refined version of a garden stool that's also waterproof. I like to keep one in my steam shower."
Ask a Shop Clerk
Record City, 65 Fenimore St.
Reggae aficionado Ian Clark opens Record City vinyl store in Prospect-Lefferts Gardens (late Aug.).
Considering Drake and Bieber's latest hits, how do you feel about Jamaican music's mainstream moment?
Reggae and dancehall have always had a huge, somewhat unsung influence on everything from rap to dance music. It goes far beyond Bob Marley, and now that's starting to get recognized. The thing is, that kind of music isn't really being pressed on vinyl anymore. I have a record label called DKR where we reissue old reggae music like Al Campbell's Collie Herb/World Crisis ($12), plus over the past decade I've collected rarities like a silk-screen-cover Revival Dub Roots Now LP from the legendary Channel One label ($75). You'll find music here you can't listen to on your iPhone.
More Openings
Late August
Thakoon
70 Wooster St.
The Thai-American relaxed-womenswear designer opens his first flagship. 
September
Sarajo  
31 Howard St.
 Home-goods bazaar with rare textiles and antique wood furniture.
Aquatalia
965 Madison Ave.
A cavernous angled-ceiling entryway leads to Italian-designed python buckle heels ($750).
The Stonework 
37-06 Ditmars Blvd., Astoria
Hand-painted Queens-inspired flags ($59); denim jackets stitched with Neil Young quotes ($72).
October
Target
255 Greenwich St.
The first Manhattan "flexible format" concept — about a quarter of the size of a typical Target — also has a Chobani café.
Yogasmoga  
10 Bond St.
Pill-resistant leggings ($130) on the main floor; yoga studio on the lower level.
November
John Hardy
118 Prince St.
Sterling-silver chains (from $695) from the Bali-based jewelry designer.
Canada Goose
101 Wooster St.
Knee-length parkas in deep greens ($900); select vintage pieces from the archives.
A/D/O  
29 Norman Ave., Greenpoint
A design-focused shop and co-working space in the former home of the Brooklyn Bazaar.
*This article appears in the August 22, 2016 issue of New York Magazine.