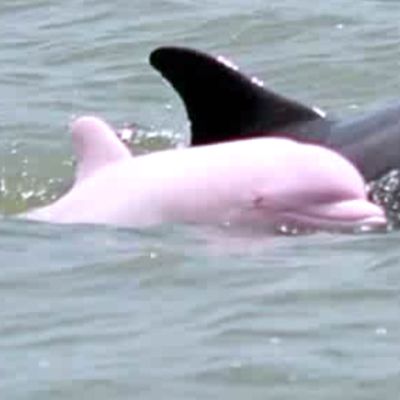 According to local boat captain Erik Rue, "Pinky" — a famed rare pink-colored dolphin and manifestation of all your wildest Lisa Frank–related dreams — is living it up in Louisiana's Calcasieu River this summer, just really loving life and doing Pinky right now. "We still see her swimming almost every day in the summertime," Rue told WGNO. "She looks happy and healthy." And, along with chugging frosé and making Instagram stories, Pinky, who's about nine years old, is getting laid a ton.


Per WGNO:
Last summer, Rue told us that "Pinky" had been seen mating quite a lot, so they wondered if she'd become pregnant because of her active "dating" life. "Pinky" certainly is popular with the male dolphins!

A year later, they tell us that she is not pregnant, but she's still trying. She's still photographed often, and she's still a very happy dolphin.
Pinky, for her part, sent out a frantic dolphin call that roughly translated to "can I live?"