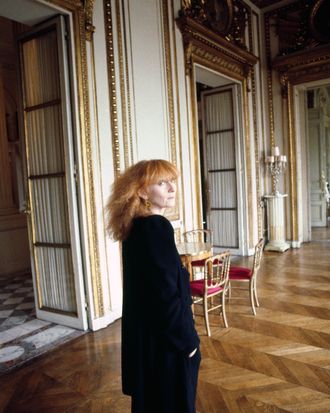 Sonia Rykiel
Photo: Sergio Gaudenti/Sygma via Getty Images
Sad news today from Paris — Women's Wear Daily reports that Sonia Rykiel has died at age 86, following a long battle with Parkinson's disease. The flame-haired designer created one of the most beloved French brands — known particularly for its witty knitwear — but she began as a fashion amateur.
When she was pregnant in the early 1960s, she told WWD in an interview, "I wanted a maternity dress, but I couldn't find anything I liked. Everything was abominable. So I made one." Unlike the blousy maternity wear of the time, it was fitted and flaunted her silhouette rather than attempting to disguise it. "I wanted to show the world how happy I was," she told Newsweek in 1976. "My mother-in-law was scandalized, but my friends asked how they could find one like it." That for-women, by-women ethos would drive her career.

For her next trick, she made what would become her signature "poor-boy sweater." Elle immediately put it on the cover, worn by Françoise Hardy. WWD declared her "the Queen of Knitwear," an appellation that would stick throughout her life. She was given to splashing slogans on sweaters — your favorite novelty sweater owes something to her proclivity for adding text to everything. She was also known for making reversible pieces and clothes that were meant to be worn inside out, before either trend was widespread. She was given to calling her approach "démode," or un-fashion.

In 1968, the newly divorced Rykiel opened her Left Bank store amid the student protests going on in Paris. Her customers would include Catherine Deneuve, Brigitte Bardot and Audrey Hepburn. She began holding fashion shows featured smiling, laughing models — in contrast to the stuffy atmosphere of the runway at the time. The beginning of her fashion career coincided with women's liberation, and Rykiel emphasized freedom, comfort, and ease without sacrificing femininity. She embraced color and kooky motifs like lip prints. Her audience, she said, was made up of women who contained contradictions: "fragile but strong."
Rykiel's side projects were as entertaining as her fashion. She appeared on one of punk provocateur Malcom McLaren's albums, singing a song called "Who the Hell Is Sonia Rykiel?" One of her shows inspired Robert Altman to make his fashion exposé Prêt-à-Porter (Ready to Wear), and she had a cameo as herself. And in 1996, she published a novel described as — what else? — a love triangle between a man, a woman, and a sweater.