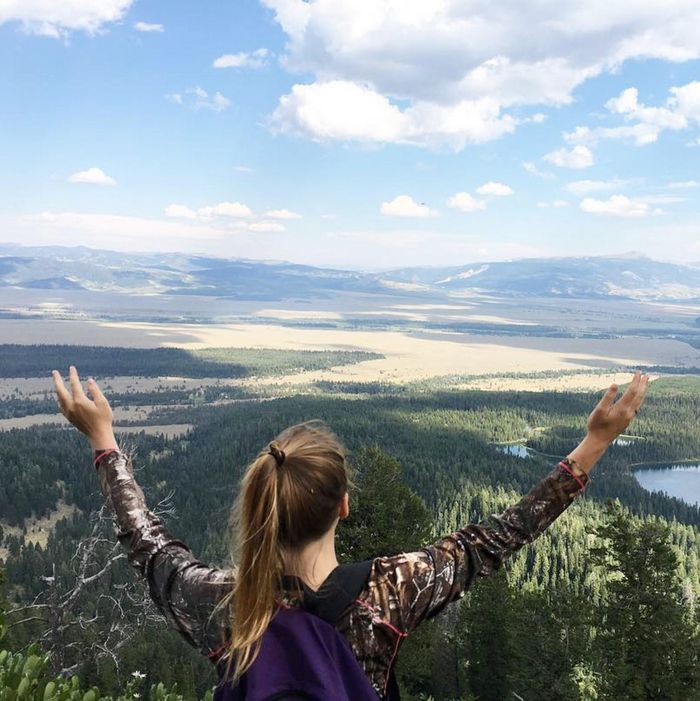 Fauna Jackson went missing in a Wyoming national park. When she was found, she looked completely different.
Photo: fxunx/Instagram
Would a 16-year-old girl actually want to vanish in the wild? That is currently the mystery in the case of Ohio teen Fauna Jackson, who went missing in a Wyoming national park last week. When she was found two days later she had cut and dyed her hair, changed her clothes, and tried running away from her rescuers, prompting a few questions (in the spirit of Cheryl Strayed): Was she really lost? Or did she want to disappear?
Jackson, 16, is a straight-A tenth-grade student in Cincinnati, where she is president of her school's Vegan Club, involved in theater productions, and a talented member of the Cincinnati Children's Choir. She's an avid gardener and very experienced in the outdoors.
Eerily, before she left to volunteer with a conservation group in Wyoming's Grand Teton National Park, she posted a photo of the book A Lesson Before Dying: "Can't wait to go to Wyoming," she captioned the photo, "it's gonna be a real blast." The Ernest J. Gaines novel, which addresses racism in the 1940s South, centers on a Louisiana man who initially considers staying in his hometown or escaping to another state.
Jackson was volunteering with 19 other people on a Groundwork USA conservation trip. On Thursday morning of last week, their final day in the national park, while working on a trail supervised by park rangers, she said she needed to go to the bathroom, walked alone into the woods, and never returned.
More than 115 people searched for her in the 310,000-acre park over the next two days, including the FBI, park rangers, naturalists, and paramedics with the help of dogs, ATVs, helicopters, and infrared imaging. Her friends in Cincinnati planned a vigil. On Friday, the search team found a clue: a hiking boot that she wasn't wearing when she went missing, maybe fallen from her backpack.
People were confused. In the media, her disappearance was portrayed as completely unexpected: Jackson was a promising leader and experienced camper and hiker who loved the outdoors. Worrying about a possible abduction or injuries, a math teacher said she had the basic skills to survive alone in the wilderness.
After eight weeks of volunteering with Groundwork USA's Cincinnati chapter, Jackson was one of three teens selected for the Wyoming trip. In Grand Teton National Park, there were no warning signs among the group's 20 members: Jackson reportedly got along well with everyone. She documented their hikes in several Instagram photos, including a selfie posted one day before she vanished: "Last day in Wyoming is tomorrow!! I can't wait to be home and see everyone," she wrote. "Today I'm going to be blazing a trail, pretty siked. I love you all a bunch and can't wait to see all of you soon!"
During the search nearly 150 comments flooded one Instagram photo, pleading for her return. Her debit card and cell phone weren't used at all after she disappeared, according to her stepfather.
Then on Saturday morning, Jackson was found about three to four miles away from where she vanished, looking completely different: She had cut and dyed her hair, changed clothes, and ran away from rescuers as they approached. She was taken to a hospital for a welfare checkup and placed in protective custody. Her parents expected to bring her home to Ohio on Monday.
After Jackson returned, more comments on her Instagram posts expressed both relief and outrage. One commenter called the incident "reckless and selfish," while another accused her of disappearing on a trip to Miami in 2014. Officials said the details and her change in appearance are currently under investigation. The cost of the search has not yet been determined.
"Her condition appears to be good," her stepfather told Cincinnati's FOX19. "We're just so happy to have our beloved daughter back."