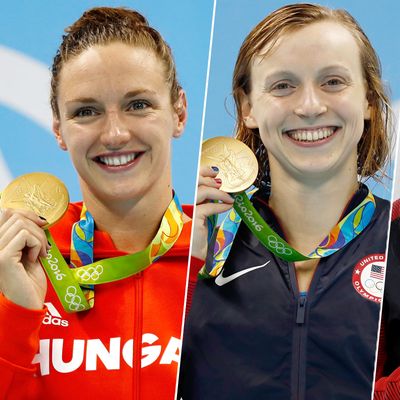 Katinka Hosszú, Katie Ledecky, and Corey Cogdell-Unrein.
Photo: Getty Images
The Summer Olympics — that series of sporting events that whips spectators into a patriotic frenzy every four years — started just four days ago, but several media outlets have already reminded us exactly how taxing it is to be a female athlete.
The first offense came from NBC commentator Dan Hicks. When Hungarian swimmer Katinka Hosszú won a gold medal and broke a world record in the 400-meter individual medley, the camera panned to her husband, who was watching in the stands as Hicks said, "and there's the man responsible." Hicks later apologized for his phrasing and, "wished he'd said things differently," but not before Twitter could drag him.
Next the Chicago Tribune was criticized for this tweet about Corey Cogdell-Unrein, who won the Olympic bronze in women's trap shooting.
The Tribune article isn't much better — its headline fails to mention Cogdell-Unrein's event and refers to her foremost as "wife," and after offering a scant two paragraphs about her achievements, it quickly transitions to discuss her husband's training schedule and the Chicago Bears' opening game.
Then, after the U.S. women's gymnastics team blew the competition away in the qualifying round, an as-yet-unidentified commentator said the seven women looked like they "might as well be standing in the middle of a mall" as the camera showed them laughing and chatting on the sidelines. Which is cute and all, except they're not at a mall — they're at the Olympic Games.
His comments come, as the Huffington Post points out, just a few days after a study by the U.K.'s Cambridge University Press found that male athletes are three times as likely to be discussed in a sporting context as women, who are frequently described based on their age, marital status, or appearance.
On Sunday night, U.S. swimmer Katie Ledecky broke her own world record and took the gold in the women's 400-meter freestyle … which somehow still wasn't enough to earn her a superlative in her own right. The Daily Mail referred to her as the "female Michael Phelps" (its headline has since been updated, but the phrase is still used in the article), and many remarked that she "swims like a man."
And finally, some very helpful man on Twitter took the opportunity to explain cycling to Olympic cyclist Annemiek van Vleuten of the Netherlands, who crashed before completing her race.
Just 13 days to go!