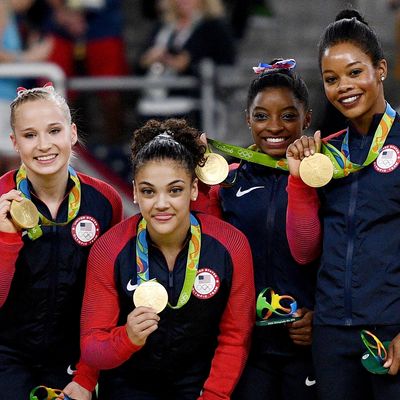 Photo: David Ramos/Getty Images
During the Rio Olympics, the Final Five achieved a great deal, winning medal after medal, and plenty of attention was showered on the team as a whole. Yet, there were also moments when maybe the international spotlight shone a little brighter, or a little harsher, on some of the young women.
That doesn't mean, though, it caused any bad blood between the Olympians. During an interview with E! News, Aly Raisman, Simone Biles, Laurie Hernandez, Madison Kocian, and Gabby Douglas set the record straight about the perceived competition among them.
E! News' Maria Menounos asked the group how they dealt with being pit against each other and Raisman didn't hesitate to respond: "We don't like it." Biles chimed right in, emphasizing that they competed together, not against one another. "We're a team so we didn't pay attention to it," Biles said. "They did that themselves but we were well put-together as a team and I think they realized that."
Biles was undoubtedly one of the breakout stars of the Games, after becoming the first gymnast to win five gold medals at a single Olympics. While Biles received plenty of praise throughout (and a kiss from superfan Zac Efron), others on the team weren't always so elevated. Douglas, for one, was harshly criticized on Twitter for not placing her hand on her heart during the national anthem. The criticism got so harsh that Leslie Jones jump-started a trending hashtag to encourage support for her during the Games.
But aside from how they were treated in media, the teammates also at times competed against each other in the individual events. At the end of the day, though, there's no bad blood between them, they assured E! News' Menounos.
"We're representing USA as best as we can," Raisman said. "So if one of us gets a gold, we're happy, because it's one more for Team USA. We all support each other, we all have fun, I know that sounds cheesy. People don't always believe it, but we know that we're happy, we know that we love each other so that's all that matters."
The Final Five also told the Today Show they're planning on going at it again — together — in 2020 at the Tokyo Olympics. So, yeah, it's safe to say that this is one team that sticks together.