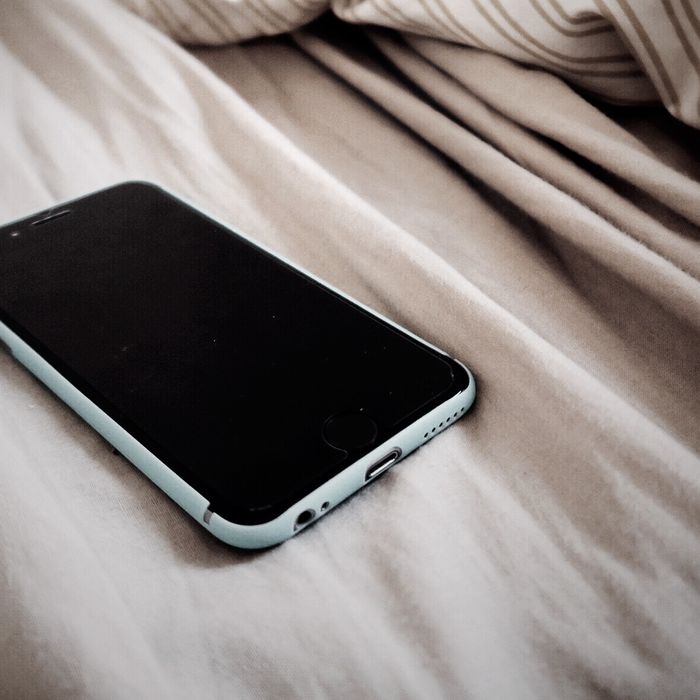 Photo: Getty Images/Getty Images
New York's Sex Diaries series asks anonymous city dwellers to record a week in their sex lives — with comic, tragic, often sexy, and always revealing results. This week, a 25-year-old finance professional who makes out with a friend's girlfriend on one of her many wild nights: 25, straight, single, UES.
DAY ONE

5:45 a.m. I wake up to my alarm blasting in my ear and cuddle up to my friend-with-benefits guy, Joe. Skin-on-skin contact is my favorite because it makes me feel so close to him. I kiss him good morning, and we fall back asleep holding each other.
6:30 a.m. Skin-on-skin contact can be dangerous. He starts touching my clit, and it makes me weak in every part of my body. Next thing I know, he's underneath the covers licking and kissing my vagina. I push his dick inside of me and squirt all over his sheets.
10:30 a.m. Thank God for technology and the creativity behind it. I get a package at work, and I immediately know what it is: My Crave Vesper vibrator necklace has finally arrived. A part of me wants to go into the ladies' room and try it for a quickie — there's something incredibly exhilarating about having a vibrator at work. I snap a picture with the caption "accesexorize" to my friends. I like to think I'm pretty fucking clever.
7:00 p.m. It's been a long day, and the last thing I want to do is work out, but with some much-needed encouragement from my girlfriends, I drag myself to Barry's Bootcamp. I repeat "Look good, feel good" in my head while sprinting and lifting in what seems to be a never-ending gym session.
DAY TWO
7:00 a.m. I wake up for spin class. My only motivation in going is the sweat. I absolutely live for it.
10:30 a.m. Stressed out at work — I have financial advisers and colleagues giving me projects left and right. I leave work to smoke a crushed-but-usable blunt that I find at the bottom of my bag from sometime last week. Weed always calms me down. Those who freak out over it can really go fuck themselves.
4:30 p.m. I text Max, another FWB guy, to see if he's available tonight. I'm currently just having fun — no signs of a long-term prospect anytime soon. He responds right away, and we make plans for dinner.
9:00 p.m. We go to his place after dinner, and I suck his dick. I thoroughly enjoy giving him blow jobs. He touches my vagina, and it's no surprise that I'm already wet. I shove his head downward, and he does the most magical thing ever with his tongue. He keeps teasing me until I'm begging him for sex. We come at the same time, and I accidentally squirt on his cell phone. We cuddle, and it occurs to me that Max just made me come so hard that I broke his iPhone.
DAY THREE
Noon I take a walk for lunch, and I end up at Victoria's Secret buying a silky lingerie set. My confidence has risen due to all the Barry's Bootcamp and Flywheel. I'm actually surprised at the results — I've never looked better. Now the real question is, what lucky man gets to see me in this?
7:00 p.m. I need to desperately release some stress. I run home, and I masturbate with my vibrator while watching my favorite type of porn — two females going at it for one male. I watch until I come several times.
8:00 p.m. My girlfriend texts me to see if I'm available for drinks. I'm already in my raggedy T-shirt and about to start this week's Billions episode, but she's in a shitty mood, so I get out of bed and put on real clothes. A drink and a half later, I'm getting tipsy. What can I say? Cheap date right here.
10:30 p.m. Drunk-me starts to go crazy on the dance floor. I make out with this girl but don't realize that she has a boyfriend, so I basically get vagina-blocked by him. Whatever — I bet it made him hard after all that touching, biting, and kissing I was giving her. I give her one more make-out session, squeeze her ass, and give her back to her boyfriend. I'm such a goddamn sucker for girls who know how to dance. I don't identify as bisexual, but I'm very comfortable with females and am attracted to some. I would love to explore, though!
11:30 p.m. I pick up some guy on the dance floor and end up going home with him. We fondle and make out viciously in the cab. We finally get to his apartment, and I find out that he shares a room with his friend. I ask myself what the fuck I just got myself into — but I'm horny and very down to fuck. We climb into his bed, I go down on him, and then we thrust very quietly until he comes. I'm on the Pill and don't often use protection, if I'm being honest.
DAY FOUR
4:00 a.m. Call an Uber and sneak out of random dude's apartment, then proceed to fall back asleep.
8:30 a.m. I finally wake up, with a slight hangover. I think about calling out from work but tell myself it's a waste of a sick day and suck it up instead. I call an Uber to work since walking to the train seems like a huge struggle right now.
10:00 a.m. My co-worker can immediately tell that I had way too much to drink for a Wednesday night and comes to the rescue with two Advil liquid gels. I feel saved already.
10:30 a.m. I'm putting out fires left and right. Most people don't think of Asians as aggressive, but that all changes when they meet me — I make things happen and get shit done. I ain't your average innocent passive bitch. Call me Tiger Mama.
2:00 p.m. I get a text from Max asking if I want to meet up after work for drinks. I tell him I would love to meet but have tentative plans. I need a night to myself if I know I'm going to go get some dick at the bars this weekend.
8:30 p.m. Work is finally over. A bottle of wine later, I end up calling Max on his work phone and we have hot steamy phone sex. I tell him I want to go down on him and suck his dick in my office on the swivel chair and then fuck him on the desk wearing nothing but my stilettos. He pants my favorite words: "Baby, I'm going to come."
DAY FIVE
7 a.m. Gym time. A class dedicated to working on the booty is the best way to start a weekend. I have such a huge girl crush on the instructor, too — Brazilian women are beautiful.
Noon Waiting for work to be over like …
4 p.m. Phone starts to blow up: Let the weekend planning begin. Girlfriends are thirsty and want to go meet lacrosse bros. I'm not really into that type, but, hey, I'll hang and see what's out there.
10 p.m. We pregame at my girlfriend's house, and I'm beyond fucked up even before we get to the bar. Fucking vodka.
1:30 a.m. I get so way too low on the dance floor that I end up ripping my leather leggings. It's my cue to go home before someone sees my bare-naked ass. I get a text from Joe asking to meet up, and we drunkenly make out and try to have sex — which turns out to be a disaster since we're both so intoxicated.
DAY SIX
9:30 a.m. I wake up to Joe touching me. We tease each other until we can't handle it anymore. We have sex while listening to birds chirp and children screaming in the playground. I often wonder if they can hear us.
11 a.m. We wake up from our post-sex nap and go get breakfast. I head to Barry's Bootcamp for a workout. I'm definitely counting today as a two-a-day workout day. Pizza and vodka, get in my belly.
5 p.m. My girlfriend invites me to an erotic swinger party next weekend in the Hamptons. No questions asked — I'm already in. I'm hoping this party finally lets me fulfill my foursome fantasy.
11:30 p.m. The girls want to go clubbing tonight. I consider myself the token Asian in my extremely Waspy friend group. That being said, I don't feel the need to try as hard, so I put on my favorite low-plunge bodysuit with leather shorts and run out the door in my lace-up four-inch heels.
12:30 a.m. Just made out with my friend's girlfriend. #sorrynotsorry
12:45 a.m. I randomly bump into Max at the club and he sneaks me into VIP and we grind, dry-hump, and dance until the club closes.
2:30 a.m. Max comes over, and we make our way to my room while ripping each other's clothes off. I'm standing on one foot with the other foot up against the door. He fingers me until I can't handle it anymore, then throws me on my bed.
DAY SEVEN
9 a.m. I wake up to Max. We're not the best cuddle partners, but waking up to him brings me such happiness. We talk, laugh, and spoon until he has to go. I hate watching him go, but I tell myself to toughen up and keep myself distracted until the feelings go away.
12 p.m. I get a text from Joe asking me to come over to cure his Sunday Scaries.
5 p.m. I head over to Joe's apartment. I ride him hard cowgirl style while playing with his balls. I finally turn over and he comes so hard that he ends up shooting his cum up to my mouth. He apologizes, but I don't mind at all. I take it as a compliment.
10 p.m. I scratch Joe's back, and he returns the favor by giving me a back rub. My satin panties come off, and we have one more round of sex before  bed.
Want to submit a Sex Diary? Email sexdiaries@nymag.com and tell us a little about yourself.