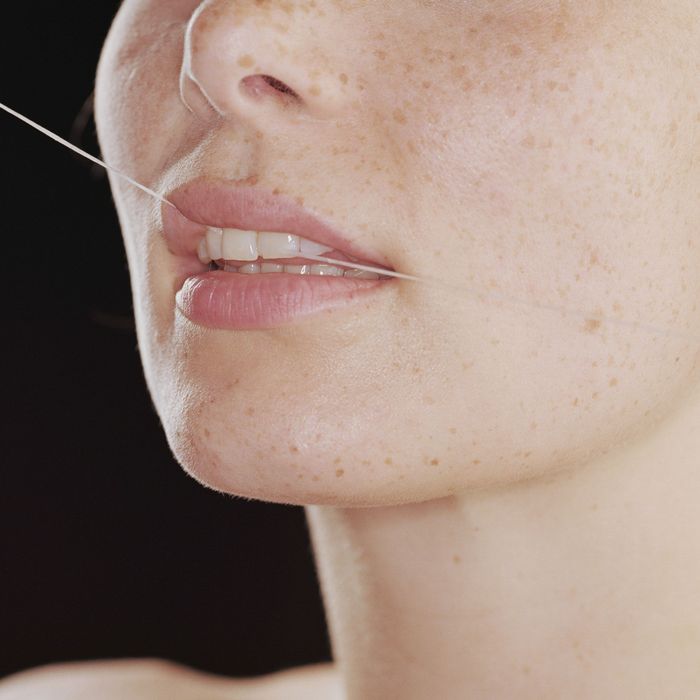 Photo: Justin Pumfrey/Getty Images
We're told to floss daily to prevent gum disease, plaque buildup, and cavities. But the Associated Press had its national investigative team look into the purported benefits of dental floss and found it wanting.
The AP has been investigating dental floss since sometime last year when it requested the scientific evidence from the departments of Health and Human Services and Agriculture used to determine if flossing should be part of the Dietary Guidelines for Americans and got crickets. They had to follow up with written requests under the Freedom of Information Act. Still nothing.

The practice of flossing had been included in the guidelines, which are issued every five years, from 1980 to 2010. It was not in the 2015 edition, which was released in January. That's when a scandal emerged: "In a letter to the AP, the government acknowledged the effectiveness of flossing had never been researched, as required."
The investigative team reviewed the available research on its own, focusing on 25 studies that generally compared brushing alone versus brush and flossing. They determined that the evidence was "weak," "unreliable," of low quality, and had the potential for bias. In short: Studies thus far have failed to demonstrate that flossing is beneficial.

The American Dental Association (ADA) and American Academy of Periodontology cited different studies but they were very short in length and, as a result, mostly focused on warning signs like bleeding versus the development of gum disease or cavities. Floss manufacturers were not able to provide convincing evidence that their product works despite the fact that they often fund the research and sometimes design and conduct it.
Companies submit this research when applying for the ADA's Seal of Acceptance, which costs $14,500 for an evaluation plus an annual fee of $3,500. The ADA says it does not profit from this practice.

So you're off the hook right? This very intense investigation doesn't mean flossing isn't beneficial, just that no one's proven it yet. Your dentist might still recommend it. A dentist for the National Institutes of Health acknowledged that, by scientific standards, flossing should no longer be in the guidelines — but people should still floss. "It's low risk, low cost. We know there's a possibility that it works, so we feel comfortable telling people to go ahead and do it."