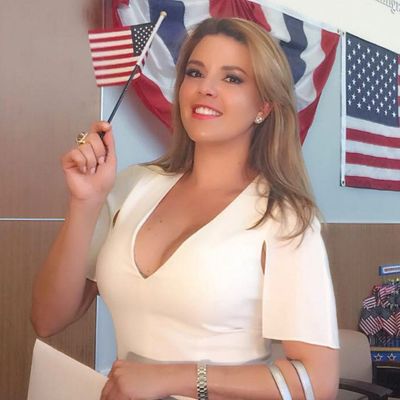 Photo: machadooficial/Instagram
In 1996, Alicia Machado of Venezuela was awarded the Miss Universe crown. Donald Trump had taken over the pageant that year and, after she put on some weight following her victory, she says that he subjected her to verbal harassment and other inappropriate behavior. As of this week, she officially became a U.S. citizen so that she can vote against him in the upcoming election.
Some of Trump's most egregious actions against Machado include calling her "Miss Piggy," "Miss Housekeeping," and "an eating machine." In an especially grotesque move, he set her up at a gym to help her get back into shape, then invited a hoard of reporters to unexpectedly show up and film her working out.
In an Instagram Machado posted of herself waving an American flag after becoming a citizen, she wrote, "I'll be Voting! All my power and my support become with my next President @hillaryclinton Miss Housekeeping and miss Piggy Can Vote @realdonaldtrump."
It took 20 years, but it must feel good to finally get to tell him off.