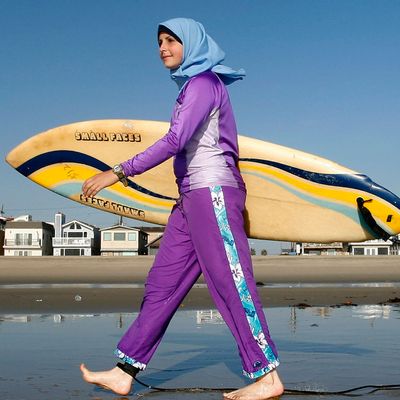 Last Friday, France's Council of State made it illegal to ban the burkini in the resort town of Villeneuve-Loubet, near Nice on Côte d'Azur, a decision that was applauded by Amnesty International as "an important line in the sand." However, the ruling doesn't apply to other resort towns where the modest swimwear is still banned from the beaches, and the authorities in those towns haven't been deterred from warning, fining, or forcing women wearing burkinis to leave the water.
BuzzFeed's Aisha Gani interviewed a woman wearing a burkini on the beach in Nice, and she said, "I booked a holiday to Nice to change our common holiday destination of Algeria. We're on a road trip on the Côte d'Azur, and yesterday we went to Nice beach for the first time in our lives so we had to put [our] feet in the water. But because of the ban we were worried about the policemen and funny looks." Her daughter, who was also wearing a burkini, told Gani, "For Muslim women it will be bad for the next two months and then they will forget it and move onto the next polemic."
Gani also posted pictures from the beach of signs along the promenade warning people against "beachwear which ostentatiously displays religious affiliation." The signs had been taken down briefly after the court ruling.
Last week, police cited the ban as a defense for cruelly forcing a woman in a burkini to remove some of her clothes in public. The footage and photos that showed up online, as well as onlookers' descriptions of the event, sparked anger around the world that's spilled over into rallies in favor of the freedom to wear burkinis.