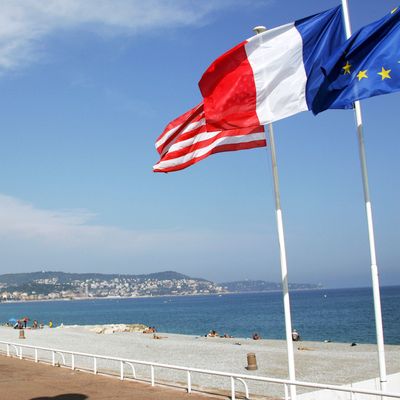 It happened on the same beach in Nice where 85 people were killed on Bastille Day.
Photo: Tony Barson/Getty Images
On Tuesday, French police officers apparently made a woman take off some of her clothing on a beach in Nice, one of 15 towns that have now banned the burkini swimsuit worn by some Muslim women. There are photographs to prove it (on the Guardian), showing at least four armed men standing over the woman while she removes an aqua-blue shawl. They're on the same rocky beach where 85 people were killed on Bastille Day.
Another 34-year-old woman told French news agency AFP she was fined for wearing leggings, a headscarf, and a tunic while sitting on the beach with her family in Cannes on Tuesday. Her ticket described her outfit as disrespectful of "good morals and secularism." "The saddest thing was that people were shouting 'go home', some were applauding the police," a witness said. "Her daughter was crying."
The two incidents come after 15 French towns recently banned the burkini — reactionary measures that reflect growing fears of Islamic extremism following the country's recent terror attacks in Nice and in Normandy, where two ISIS supporters murdered a Catholic priest. Prime Minister Manuel Valls supported the local bans last week, calling the garment unpatriotic and based "on the enslavement of women."
France's highest administrative court will review the bans on Thursday, after French NGO the Human Rights League appealed the measures. Its decision will set a legal precedent for towns throughout the country.
The Australian-Lebanese designer who invented the burkini over a decade ago, Aheda Zanetti, told France 24 she has seen a bump in sales as well as letters of support amid the controversy: On Sunday, she received 60 non-Muslim orders, compared to her usual ten or 12. She said many people have written to express their support, including skin-cancer survivors who like wearing the suit.
"Women are standing together on this," she said. "It doesn't matter what race or religion."