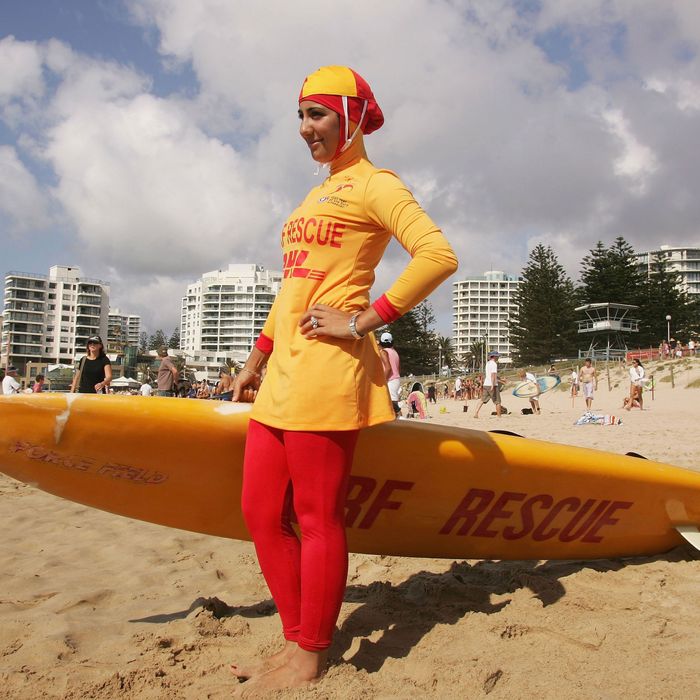 A surfer wearing a burkini in Sydney, Australia.
Photo: Matt King/Getty Images
On Wednesday, French prime minister Manuel Valls supported local mayors who recently banned the burkini, describing the full-body swimsuit worn by some Muslim women as an unpatriotic garment based "on the enslavement of women."
He spoke with the newspaper La Provence after three French cities along the Mediterranean Coast banned the burkini in the past week. Three more towns are expected to join them.
Prime Minister Valls said the burkini is "not compatible with the values of France and the Republic." He said he wouldn't support a national law forbidding the swimsuit, but that beachwear shouldn't be associated with religion and politics. "The burkini is not a new range of swimwear, a fashion," he told La Provence, according to The Independent. "It is the expression of a political project, a counter-society, based notably on the enslavement of women."
Considered reactionary, the local burkini bans reflect growing fears of Islamic extremism in France amid the country's recent terror attacks — in Normandy, where two ISIS supporters murdered a Catholic priest, and in Nice, where 85 people were killed on Bastille Day.
The mayor of Cannes first banned the burkini from the city's beaches last week, calling the swimsuit "the uniform of extremist Islamism, not of the Muslim religion" and disrespectful of "good morals and secularism." The village Villeneuve-Loubet soon followed "for hygienic reasons," the mayor said (um, what?), adding that "In France, one does not come to the beach dressed to display one's religious convictions, especially as they are false convictions that the religion does not demand."
Sisco, on the island of Corsica, became the third town to join them on Monday, immediately following a violent beach brawl between local teens and three Muslim families the day before. In a country that already enacted a "burqa ban" forbidding full-face veils, the seaside resort towns Leucate, Oye-Plage, and Le Touquet are expected to also ban the burkini. As the Washington Post's Kathleen Parker wrote, some "feminists and the 'enlightened' French see the burkini as a visual face-slap to women's egalité." But others, including Muslim and anti-discrimination groups, have harshly criticized the measures, insisting that women should be free to dress themselves.
Feiza Ben Mohamed, a spokeswoman for the Southern Federation of Muslims, responded to the Cannes burkini ban last week, telling the Local: "The mayor talks about protecting public order, which means he thinks the presence of a Muslim woman on a beach will cause trouble. He also invokes the fight against terrorism, so he is basically saying a Muslim woman who wears a burkini is a terrorist."