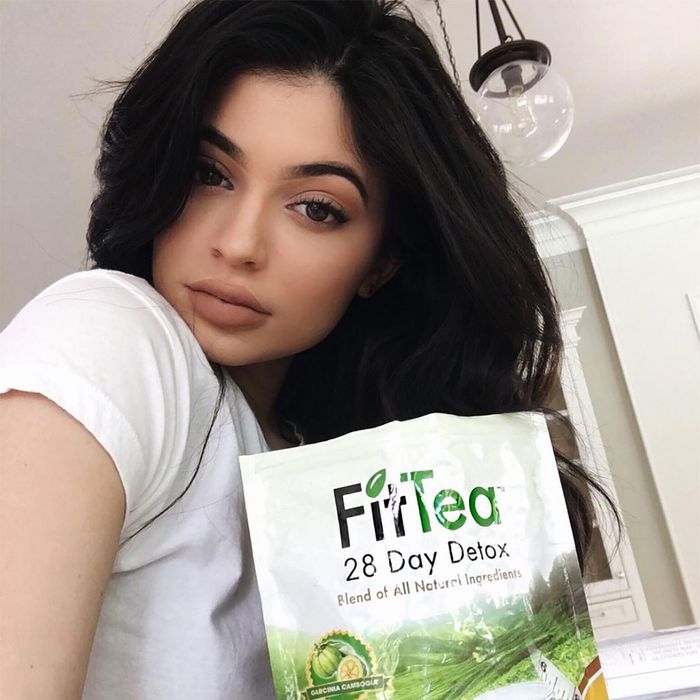 Kylie Jenner with her favorite drink ever!
Photo: kyliejenner/Instagram
Based on their social-media accounts, the Kardashian-Jenners really, really love Fit Tea. But between now and when they first began hawking the stuff on Instagram, they've made a slight adjustment to their posts. In Khloé's post back in March, for example, she's drinking a mug of the stuff, but there's nothing to indicate whether the company is paying her. But in a more recent post, there's a clearly visible #spon (or "sponsored") hashtag.
The change is likely due to the Federal Trade Commission's decision to crack down on sponsored content that's not clearly marked as an ad. Michael Ostheimer, a deputy in the FTC's Ad Practices Division, told Bloomberg Businessweek that the agency has been watching the rise of sponsored posts that don't exactly seem sponsored on platforms like Instagram, Twitter, and Snapchat, and that it's been getting in touch with advertisers to make sure the people they choose to peddle their products comply with FTC rules.
Those rules include disclosing that a post is sponsored, or that a celebrity has received a product for free. The hashtags #ad and #sponsored are usually enough to do that, but hashtags like #spon and #sp aren't, Ostheimer said. And to fully comply, celebrities must place the hashtag at the beginning of a post, instead of at the end where it can easily be overlooked.
"If consumers don't read the words, then there is no effective disclosure," he said. "If you have seven other hashtags at the end of a tweet and it's mixed up with all these other things, it's easy for consumers to skip over that. The real test is, did consumers read it and comprehend it?"
In video posts, the FTC requires celebs to say out loud or display prominently onscreen that the post is an ad. But the rules are still fuzzy for platforms like Snapchat — not to mention Instagram's new Stories feature — where videos only last a few seconds.
Ostheimer said the FTC won't be calling every single ad agency, but it will go after advertisers with lawsuits, like it did when it sued Warner Bros. for failing to disclose that it had paid YouTube influencers to talk up one of its video games. The FTC hasn't sued an actual influencer yet, but Ostheimer said the agency hasn't ruled it out.
"We hope by bringing these cases that we not only stop the marketer and influencer who didn't have adequate disclosures previously, but also get the message out that other companies should have clear and conspicuous disclosures," he said. At least we know Khloé is paying attention.