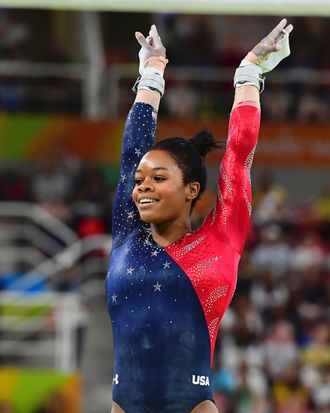 Gabby Douglas.
Photo: EMMANUEL DUNAND/AFP/Getty Images
Shortly after she completed her stint at the Rio Games, it was announced that Olympic gymnast Gabby Douglas will be one of the judges at this year's Miss America pageant.
Speaking to her new judging role, Douglas said:
Miss America has been such an amazing event for so many years and I am excited to have the opportunity to judge the competition this year. The contestants are a great example of strong women across America and I especially look forward to hearing the platforms that each of them will represent.
Miss America will air on ABC on September 11. In the meantime, any competitor who was planning on a gymnastics-based talent portion should probably rethink it.